Kyocera Communications Wins Recycling Award
Monday, April 23, 2012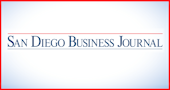 The recycling efforts of San Diego-based wireless phone provider Kyocera Communications Inc. are being recognized this month with a Director's Recycling Award from the City of San Diego's Environmental Services Department.
This is the 12th consecutive year the city has awarded the mobile phones division for its recycling efforts. Kyocera in San Diego, which includes Kyocera International Inc. and Kyocera Americas Inc., has earned 19 such awards from the city — more than any other business in San Diego, according to the Environmental Services Department.
In 2011, Kyocera Communications recycled more than 26,730 pounds of paper, plastic, electronic and other waste materials, according to the company. Efforts that contributed to the recycling award include changes in the domestic distribution of its mobile devices. Kyocera spokesman John Chier said the company is doing more retail packaging domestically, which allows products to be shipped from overseas in bulk rather than in packaging. This greatly reduces the consumption of fossil fuels used in the shipping process.
Other steps have been taken to place cell phone collection bins in Kyocera facilities, and to separate cardboard from landfill trash so that it can be recycled as well as collect paper and aluminum cans for recycling. In 2011, Kyocera Communications says it collected and recycled 14,130 pounds of miscellaneous electronic scrap from its labs and offices, almost triple the amount of the previous year.
The state of California also recognized Kyocera's environmentally-friendly business practices with the Waste Reduction (WRAP) Award in January.