CONSTRUCTION: AREA RANKS 9TH FOR LEED COMMERCIAL PROJECTS
Companies Help Region Become Energy Star
Monday, April 23, 2012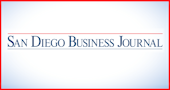 Glenborough LLC, which owns the 15-story Aventine office building in San Diego's University Towne Center neighborhood, has undertaken major energy-efficiency overhauls to cut operating costs, attract new tenants and keep existing ones on board.
Starting in 2008, the Aventine completed extensive upgrades to its heating and cooling systems, and its lighting and plumbing fixtures were completely replaced with more energy-smart versions. The changes netted the building a Platinum LEED certification, the highest level in the program.
Carlos Santamaria, Glenborough's vice president of environmental services, says the company invested between $700,000 and $800,000 in the upgrades, aided by $150,000 in rebates from Southern California Edison.
As a payoff, the company had made back most of its investment in four years, as annual energy costs at Aventine have dropped more than 40 percent, with yearly savings of around $125,000. That's been a key selling point for prospective tenants looking to trim their own overhead.
"It's really made a big difference in terms of operating expenses; we've gotten our energy costs down to around $2 per square foot," said Santamaria, whose San Mateo-based employer has initiated similar changes at several of its U.S. properties, including a high-rise office building it owns on Ash Street in downtown San Diego. "That helps in a market where in most places it's going to be around $2.50 to $3 per square foot."
Work by Glenborough and other companies has helped San Diego County remain among the nation's top regions for green construction and improvements tied to commercial buildings, although experts note that economic uncertainties have spurred many property owners to postpone major projects geared to energy efficiency.
The pattern is expected to shift with an improving economy, and as the State of California moves this year to implement long-delayed measures requiring owners to disclose their properties' energy usage to prospective buyers and tenants.
A National 'LEEDer'
According to the latest available data from the U.S. Green Building Council, which administers the Leadership in Energy and Environmental Design, or LEED, program, the San Diego region ranks third in California and ninth in the nation for commercial projects in the program, with 357. That includes 117 certified buildings and 240 others that were registered for future certification as of February.
San Diego also ranks fifth in the state and 19th nationally for buildings certified under the U.S. Environmental Protection Agency's Energy Star program, focused on the efficiency of buildings' operating systems and equipment, with 109 local buildings certified in 2011. (The local region placed 20th nationally in 2010 and 17th in 2009.)
Douglas Kot, executive director of the Green Building Council's San Diego chapter, said LEED principles have become a natural part of the local commercial building design process.
"When you're talking about Class A buildings, it's come to where LEED is part of the definition," Kot said.
He said local LEED-related building activity during the past two years has revolved largely around commercial renovations.
Kot said the pace of energy upgrade projects could accelerate this year. The state in July is expected to begin enforcing the terms of Assembly Bill 1103, which was signed into law in 2007 but saw its implementation pushed back several times.
The law requires owners of existing commercial buildings to disclose their facility's energy-efficiency and performance records covering a 12-month period, before the property is sold, leased or financed. It will first cover buildings that are 50,000 square feet and larger, with smaller building categories to be phased in over time.
Walt Fegley, president of San Diego-based Reno Contracting Inc., said his company has seen a steady influx of LEED and other energy-related construction and renovation projects during the past two years. However, much of the work has been geared to military and government buildings, with the private sector lagging.
To change that, Fegley said state and federal agencies may need to come up with more programs geared to helping commercial building owners pay for the cost of upgrades, similar to those already being used in the residential sector.