City Honors Grand Del Mar for Recycling
Thursday, April 19, 2012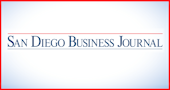 The Grand Del Mar resort in Carmel Valley has been named Recycler of the Year, in an annual awards program presented by the City of San Diego.
An April 18 statement from hotel operators said the luxury property recently announced a fuel recycling program and a new food waste composting program, among other efforts. Grand Del Mar President Tom Voss said recycling efforts "have evolved and expanded" since the 249-room resort opened in 2007.
Programs aimed at reducing trash hauled to landfills include an "aggressive recycling program" developed with Waste Management Inc. and Urban Corps, a local nonprofit geared to conservation and community service by young adults, the statement said.
The resort sends 7,000 pounds of food scraps to The Greenery, a city-run composting facility at Miramar Landfill. Only 10 percent of trash is sent to landfills, with 90 percent recycled on-site.
The Grand Del Mar works with San Diego-based Buster Biofuels to reclaim 200 gallons of cooking oil and grease monthly. It is blended and converted into diesel fuel used to power the resort's landscaping equipment.
The city plans to present its annual Waste Reduction and Recycling Awards in an April 20 ceremony at the San Diego Zoo, as part of Earth Day observances.