HEALTH CARE: DISTRICT PLANS TO OPEN $956M FACILITY IN AUGUST
Palomar Health Finishes Construction on 'Hospital of the Future'
Monday, April 16, 2012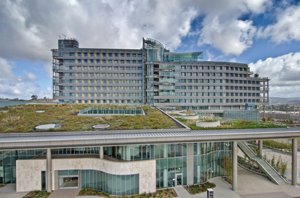 Palomar Health has completed construction on its 11-story, $956 million Palomar Medical Center.
"It's going to absolutely provide a new standard of health care in San Diego because of its design and its location," said Dr. David Tam, the Pomerado Hospital chief administrative officer who oversaw construction of the hospital. "The whole design of the hospital improves the way health care is delivered."
Construction of the hospital came to an end April 5, when the Office of Statewide Health and Planning Development granted the Palomar Health district a temporary certificate of occupancy, meaning the building passed state inspection. During the next four months, staff will be trained, equipment and furniture will be installed, and licensing will be pursued through the California Department of Public Health.
Aug. 19 is the targeted date for opening the hospital, which has been under construction for four years, and treating the first patients.
The transition will involve moving the emergency room and trauma center from the existing Palomar Medical Center, which is being renamed the Palomar Health Downtown Campus. Built in 1950, the hospital at 555 E. Valley Parkway in Escondido will primarily serve as a women's and children's hospital, and will include the maternity ward, according to spokesman Leonel Sanchez, who said it will also accommodate rehabilitation, behavioral health and outpatient services. The expanded Emergency Department at the new facility will have 44 treatment rooms, which is 19 more than are available at the downtown campus.
Some 1,600 to 2,000 staff will be needed to run the new Palomar Medical Center, and the majority will be transferred from the downtown campus.
Located on a 56-acre site in the Escondido Research and Technology Center near state Route 78 and Interstate 15, the 740,000-square-foot facility features a 120-bed West Tower and a 168-bed East Tower. It will have the capacity to expand to 360 beds.
Patient-Centered Design Features
Tam said some of the patient-centered design features include separate areas for the patients and staff. When patients see staff occupied with such things as carrying test tubes and moving equipment, it raises their anxiety level and impedes the healing process. Incorporating natural light was also a priority.
"When you go into the building, there's natural light everywhere," Tam said. "There's important evidence-based research that exposure to light and to nature enhances the healing process."
Another new feature will be nursing stations placed outside each patient's room rather than having a central nursing station, which Tam said is prone to introducing medical errors since it's a collection point for so many papers and charts. The new arrangements also include a flexible interoperative platform that allows rooms such as operating rooms to accommodate multipurpose functions so that health care delivery can be adjusted to demand for advanced procedures.
Prev Next