HEALTH CARE: DISTRICT PLANS TO OPEN $956M FACILITY IN AUGUST
Palomar Health Finishes Construction on 'Hospital of the Future'
Monday, April 16, 2012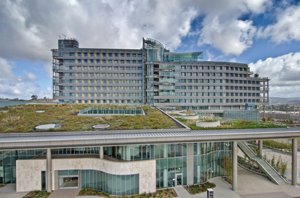 Palomar Health has completed construction on its 11-story, $956 million Palomar Medical Center.
"It's going to absolutely provide a new standard of health care in San Diego because of its design and its location," said Dr. David Tam, the Pomerado Hospital chief administrative officer who oversaw construction of the hospital. "The whole design of the hospital improves the way health care is delivered."
Construction of the hospital came to an end April 5, when the Office of Statewide Health and Planning Development granted the Palomar Health district a temporary certificate of occupancy, meaning the building passed state inspection. During the next four months, staff will be trained, equipment and furniture will be installed, and licensing will be pursued through the California Department of Public Health.
Aug. 19 is the targeted date for opening the hospital, which has been under construction for four years, and treating the first patients.
The transition will involve moving the emergency room and trauma center from the existing Palomar Medical Center, which is being renamed the Palomar Health Downtown Campus. Built in 1950, the hospital at 555 E. Valley Parkway in Escondido will primarily serve as a women's and children's hospital, and will include the maternity ward, according to spokesman Leonel Sanchez, who said it will also accommodate rehabilitation, behavioral health and outpatient services. The expanded Emergency Department at the new facility will have 44 treatment rooms, which is 19 more than are available at the downtown campus.
Some 1,600 to 2,000 staff will be needed to run the new Palomar Medical Center, and the majority will be transferred from the downtown campus.
Located on a 56-acre site in the Escondido Research and Technology Center near state Route 78 and Interstate 15, the 740,000-square-foot facility features a 120-bed West Tower and a 168-bed East Tower. It will have the capacity to expand to 360 beds.
Patient-Centered Design Features
Tam said some of the patient-centered design features include separate areas for the patients and staff. When patients see staff occupied with such things as carrying test tubes and moving equipment, it raises their anxiety level and impedes the healing process. Incorporating natural light was also a priority.
"When you go into the building, there's natural light everywhere," Tam said. "There's important evidence-based research that exposure to light and to nature enhances the healing process."
Another new feature will be nursing stations placed outside each patient's room rather than having a central nursing station, which Tam said is prone to introducing medical errors since it's a collection point for so many papers and charts. The new arrangements also include a flexible interoperative platform that allows rooms such as operating rooms to accommodate multipurpose functions so that health care delivery can be adjusted to demand for advanced procedures.
Technological Advancements
The San Diego office of DPR Construction managed construction of the hospital, which involved nearly 6,000 people, according to Palomar Health. Los Angeles-based CO Architects designed the "hospital of the future," as it's been dubbed since it incorporates technological advancements that will support electronic medical record keeping and an array of wired and wireless technologies.
The hospital, for example, is working with Sotera Wireless of San Diego to develop a continuous monitoring system for patients. Although still waiting for U.S. Food and Drug Administration approval, Sotera's continuous monitoring device records such vital signs as heart rate, respiratory rate and oxygenation. A technology called Medical Information Anytime Anywhere is also under development for physicians. The system pulls information from hospital electronic medical records as well as from the Sotera monitoring device, and is designed to put information at the fingertips of clinicians while they are not on site.
Palomar Medical Center was partially financed by Proposition BB, a $496 million bond measure that district voters approved in 2004. Other sources of funding were general obligation bonds issued by Palomar Health, revenue generated from operations, and philanthropic efforts of the Palomar Health Foundation, which included contributions from employees.
Palomar Health, which currently operates two hospitals, two skilled nursing facilities and two outpatient health buildings, is scheduling a grand opening celebration at the new hospital at 2185 Citracado Parkway on July 28. The district employs about 4,000 people and is affiliated with more than 800 physicians.
"It's been eight years since we passed Proposition BB and now we are finally going to be occupying the new hospital," said board Chairman Ted (T.E.) Kleiter in a news release. "We're looking forward to the move in and setting up the hospital, and for the community celebration on July 28 and the eventual move in on Aug. 19."