Investment Firm Westcore Relocates Local Headquarters
Friday, April 13, 2012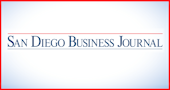 San Diego-based real estate investment firm Westcore Properties has relocated its corporate headquarters to larger facilities in the University Towne Center neighborhood.
An April 11 company statement said the new 14,000-square-foot location at 4435 Eastgate Mall will initially house 41 employees, with the capacity to grow staffing. The company relocated from a 9,000-square-foot space in a neighboring building.
"This move will immediately accommodate a 15 percent increase in our professional staff and allow for our projected growth over the next several years," said Westcore Chairman Marc Brutten.
President and CEO Don Ankeny said the firm expects to expand its commercial property portfolio to more than 15 million square feet over the next three to five years. It currently owns 11.6 million square feet of office and industrial assets.
"Over the past 12 months, we have expanded our support staff significantly, including the addition of several CPAs and finance professionals in our accounting department," Ankeny said.
Ankeny said the new space was designed to streamline communication and integration of services among various departments, to move quickly on investment opportunities. The relocation coincides with the firm's recent opening of a new regional office in Orange County.
— Lou Hirsh