Callaway Sells Top-Flite Brand to Retailer Dick's
Thursday, April 12, 2012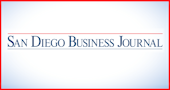 Callaway Golf Co. of Carlsbad has sold its Top-Flite brand, which includes balls, clubs and related accessories, to retail store operator Dick's Sporting Goods Inc.
Pittsburgh-based Dick's paid $20 million in cash for the assets, according to an April 4 filing by Callaway with the U.S. Securities and Exchange Commission.
"The decision to sell Top-Flite reflects the company's renewed focus and commitment to driving the proficiency of our core businesses, specifically the success of Callaway and Odyssey products," Callaway President and CEO Chip Brewer said in a company statement.
"Our strong working relationship with Dick's Sporting Goods went a long way towards the completion of this agreement, and we look forward to their stewardship of the Top-Flite brand," Brewer said.
Earlier this year, Callaway sold its Ben Hogan golf brand to Perry Ellis International Inc.
— Lou Hirsh