Two Local Restaurants Make U.S. 'Hot Spot' List
Wednesday, April 11, 2012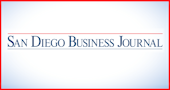 Two restaurants operated by San Diego-based Enlightened Hospitality Group LLC — Searsucker and Burlap — were among the U.S. establishments making the annual "Top 100 Hot Spot Restaurants" list, released recently by reservation services provider OpenTable Inc.
San Francisco-based OpenTable each spring issues its Diners Choice awards in several categories, based on 5 million reviews submitted by verified OpenTable diners at more than 12,000 restaurants in all 50 states and the District of Columbia, the company said in a statement.
Searsucker and Burlap were among 25 California restaurants making the Hot Spot list and the only two in San Diego County. Searsucker opened in 2010 in the Gaslamp Quarter, and Burlap opened in 2011 in Carmel Valley.
Enlightened Hospitality Group is led by entrepreneur James Brennan and celebrity chef Brian Malarkey. The company currently operates four local restaurants, with another called Herringbone set to open in May in La Jolla and a second Searsucker slated for a fall debut in Scottsdale, Ariz.