AmericanWest Bank Announces New Local Leader
Tuesday, April 10, 2012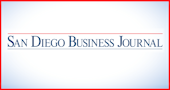 AmericanWest Bank, the Spokane, Wash.-based lender that announced its intention to buy Security Business Bancorp for about $26 million last month, said April 9 that it has parted ways with regional manager Scott Andrews, and that Paul Rodeno, SBB's chief executive, will take over the reins locally once the deal closes.
"Basically, we didn't have two jobs for two people," said Scott Kisting, AmericanWest's chairman and CEO. "We do appreciate all that Scott has done for us."
Andrews headed up Sunrise Bank when AmericanWest acquired the $175 million asset bank in July and retained him as regional manager, commercial banking. The bank has four branches and 51 employees locally.
SBB has assets of about $233 million and four offices, including one in Escondido that overlaps with an existing AmericanWest branch. Kisting said one of those branches will be consolidated into the other, but which one hasn't been determined.
Kisting, whose bank has about 70 branches in California, Washington, Idaho and Utah, and about $2.3 billion in assets, said he's looking to grow AmericanWest both organically through existing branches, as well as through further acquisitions within the Southern California marketplace of San Diego, Orange, Riverside and San Bernardino counties.
Assuming the pending SBB transaction receives the necessary regulatory and shareholder approvals, it should close during the third quarter, the company said.