BIOTECH: COMPANY USES ELECTRICITY TO DELIVER DRUG THAT HELPS KILL TUMORS
OncoSec Inches Ahead on Skin Cancer Zapping Technology
Monday, April 9, 2012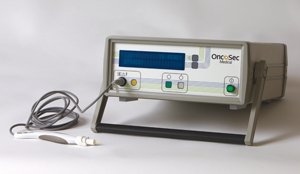 ONCOSEC MEDICAL INC.
President and CEO: Punit Dhillon.
Revenue: Not generating revenue.
Net loss: $3.8 million in 2011; $36,158 in 2010.
No. of local employees: 11.
Headquarters: UTC area.
Year founded: 2008.
Stock symbol and exchange: ONCS on the OTC Bulletin Board.
Company description: A development-stage biomedical company that's in clinical trials for drug-device combination products to treat types of cancer.
Key factors for success: The company acquired key technology from Inovio Pharmaceuticals Inc. in early 2011, which forms the basis of its product pipeline.
San Diego-based OncoSec Medical Inc...