Daphne's Launches Franchising Program
Monday, April 2, 2012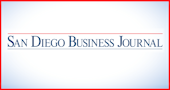 Daphne's California Greek has launched a franchising program to grow the brand nationally. The Carlsbad-based restaurant chain currently has 56 locations in three states.
The program, announced March 20, follows a rebranding, site remodeling and menu overhaul undertaken last year by Wreath Equity LLC, led by entrepreneur William Trefethen, which purchased the chain formerly known as Daphne's Greek Café.
A company statement said Daphne's is looking to grow sales at corporate stores in core markets, along with a franchising strategy targeting metropolitan and suburban markets with demographics geared to "affluent, educated diners who lead active lifestyles."
The chain has a revamped menu focused on health-oriented, Mediterranean style fare, including sandwiches, salads and pizzas. Chief Financial Officer Shannon Bane said new items now account for more than 20 percent of sales systemwide, and remodeled restaurants have seen sales growth ranging from 10 to 30 percent in the past year.