MEDICINE: DOCTOR SEES POTENTIAL FOR INSURANCE PLAN TO REDUCE COSTS
CO-OP Idea Praised as Innovative Health Care
Monday, April 2, 2012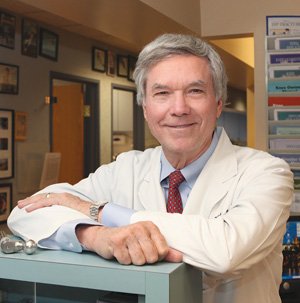 The Supreme Court heard arguments last week on whether to keep in tact the Affordable Care Act, which President Barack Obama signed into law in March 2010.
Whatever the justices decide about the sweeping health care reforms, there's one component that Del Mar health care consultant and doctor William Mohlenbrock is hoping will survive in some form: the CO-OP Program.

CO-OP is short for Consumer Operated and Oriented Plan. Mohlenbrock believes this new nonprofit health plan option holds promise for slowing down the escalating costs of health care and making insurance more affordable for small employers. The U.S. Centers for Medicare & Medicaid Services is accepting applications from organizations that want to form CO-OPs, with the goal of having at least one operating in each state.
"A CO-OP is in everybody's economic and medical best interest," said Mohlenbrock, chairman and medical director at hospital consultancy Verras Ltd. "This is the most exciting concept in health care that I've seen since the inception of Medicare in 1965."
The San Diego Business Journal spoke with Mohlenbrock to understand how this potential health care delivery model could shake up a struggling system.
SDBJ: For those who've never heard of a CO-OP before, can you explain in simple terms what the plan entails?
Mohlenbrock: A CO-OP is a not-for-profit insurance company regulated by the state. The federal government is so interested in making these CO-OPs successful that it has set aside $3.8 billion in low-interest loans so groups can get them going by 2014. These plans are not designed to displace Blue Cross or HMOs like Kaiser. They're just another type of insurance plan that's coming into the market.
SDBJ: How is a CO-OP different from a traditional HMO?
Mohlenbrock: For the first time, physicians and hospitals and the people who pay for health care all will have the same economic incentives and the same desire for high-quality, cost-effective care. Historically, if the physicians became more efficient, that helped the hospital become more efficient and it helped the commercial insurers but it really did not help the physicians from a financial standing. A CO-OP changes that dynamic.
SDBJ: How do doctors become more "efficient"?
Mohlenbrock: Doctors control 85 percent of all inpatient dollars through their ordering pen. Physicians inherently know that the way to really improve cost efficiency is to improve quality — and the reason is that one complication in a patient will double, triple and quadruple the bill. So if you really want to be efficient in health care, as in any business, you have to do it right the first time. But today there are huge variations in the way patients are treated. Variation is expensive.
SDBJ: Can you explain how variation leads to higher medical bills?
Mohlenbrock: Let's take the example of a patient with pneumonia. If you compare the most efficient patients (those that cost the least to treat and recover fastest) and the least efficient patients, you'll see a $40,000-per-case variance. It has to do with the different tests that are ordered, the number of consultants used and a myriad of other things. We have to be able to collect very specific data to show the physicians what they did that gave them the best outcomes and the greatest efficiencies, and then help them replicate that through what I call "clinical pathways." In the context of a CO-OP, doctors have incentives to use those clinical pathways. They will pull out variation by focusing on their own best demonstrated performance, and they will continually improve.
SDBJ: So where do the financial incentives enter the picture?
Mohlenbrock: All CO-OPs will be managed by a board, which will consist of community members, employers and representatives from physicians groups and hospitals. The board will determine the distribution of net savings — what percentage should go back to the employers and patients to decrease their premiums next year, what percentage should go to the hospitals and physicians, and what goes to repaying loans.
SDBJ: Who organizes CO-OPs?
Mohlenbrock: There are different models, but I'm in favor of a provider-sponsored CO-OP. Then hospitals and the physicians can put their own employees into this health plan, in addition to traditional marketing of going to small employers.