TECHNOLOGY: FIRMS CAN ESTIMATE THE COSTS OF BENEFITS THROUGH 2018
INNOVATION: Online Tool Helps Companies Plan for Health Care Changes
Monday, September 12, 2011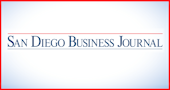 BARNEY & BARNEY LLC
CEO and managing principal: Paul Hering.
Revenue: $77.0 million in 2010; $71.6 million in 2009.
No. of local employees: 200.
Headquarters: University Towne Center.
Year founded: 1909.
Company description: The largest San Diego health insurance agency, offering insurance, risk management and employee benefits solutions.
What makes the company innovative: Barney & Barney developed an online modeling tool that allows employers to project their medical premiums and contributions through 2018, taking into account the major provisions of federal health care reform.
Key factors for success: The company, with offices in San Diego, Orange County and the Bay Area, has a broad base of expertise, with specialists in an array of industries ranging from automotive to hospitality and life sciences.
Employers who think dropping health insurance for workers will save them big money in the new world of health care reform may have to reconsider their calculations.
"It's not so simple," said Shawn Pynes, a principal with Barney & Barney LLC, the largest insurance brokerage in San Diego and one of the longest-standing in the U.S.
Pynes is part of a team of actuarial, compliance and information technology experts at Barney & Barney that has developed an online tool that helps employers make sense of complex decisions surrounding health care reform.
And chief among those decisions for many employers is whether to continue offering medical insurance. The Affordable Care Act requires all employers with more than 50 employees to offer health benefits or pay a penalty of $2,000 per worker (minus the first 30 workers), starting in 2014.
Pynes said there's been much publicity surrounding reports from the global management consulting firm McKinsey & Co., which has said 30 percent of employers will definitely or probably stop offering employee-sponsored insurance in the years after 2014, and instead pay the penalty.
Seeing the Big Picture
But like solving a Rubik's Cube, employers must consider how ending employee health coverage would affect the rest of their benefits package, Pynes said. For example, if they drop health insurance, they'd probably have to boost employees' salaries and improve other benefits to remain competitive, Pynes said. And with higher salaries would come higher payroll taxes — plus, they'd have to pay penalties for not offering insurance. "Every decision is so complex," he said.

Barney & Barney's password-protected Health Care Reform Online Modeling Tool, launched in late August, allows the company's clients to plug in their existing health care costs and project how much they'll be paying through 2018, when the final provisions of health care reform go into effect.
"The only thing business owners know right now is that their health care costs are going up, and they don't know what the legislation is going to do for them," said Del Mar-based health care consultant Bill Mohlenbrock. "Any modeling tool is certainly a help."
Employers can also save and compare various scenarios that take into account things like inflation, planned increases in staff and different employee contribution structures. Barney & Barney said the tool will be valuable for long-term budget planning.
Focusing on the Known
"We regularly hear from clients who want to know what the financial and administrative impact health care reform will have on their business," said Lisa Nelson, director of compliance and regulatory affairs for Barney & Barney. The problem is that many components of the March 2010 health care law are still being worked out. To bring some clarity to the issue, Barney & Barney's online tool focuses on the parts of the bill that "have some certainty today," Pynes said.
That includes things like the dependent-age extension, small-business tax credits, the so-called Cadillac tax on health packages with high premiums, and the above-mentioned employer mandates for providing health insurance.
Pynes said that if McKinsey & Co. is right, and 30 percent of large employers decided to pay the $2,000-per-worker penalty and drop medical insurance, the government would most likely increase the penalties "substantially" to encourage a higher rate of employee-sponsored health coverage.
San Diego's other large insurance brokerages are coming up with their own strategies for preparing companies for what's ahead.
"There's so much still to come on health care reform," said Linda Keller, executive vice president of consulting and account management at San Diego-based Intercare Insurance Solutions.
Intercare has developed a compliance binder for all clients that includes year-by-year checklists with all of the known requirements of the Affordable Care Act.