Manchester Grand Hyatt Set For Big Renovation
Friday, September 9, 2011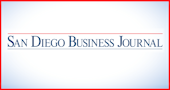 The new owner of the Manchester Grand Hyatt, San Diego's largest hotel, is planning an extensive renovation of the 1,625-room property.
A Sept. 9 statement from Maryland-based Host Hotels & Resorts Inc., which acquired the property in March through a subsidiary for $570 million, did not disclose a financial figure for the renovation but said it would involve guest rooms, meeting facilities, lounges, restaurants and public space.
A designer is currently being selected, with work tentatively scheduled to begin in spring 2012, the statement said. A hotel spokesman said no additional details were being released at this time.
The downtown waterfront hotel was built by a local group led by developer Douglas Manchester. The original tower opened in 1992, and a second tower opened in 2003.
— Lou Hirsh