WORKFORCE: FIRMS OPTIMISTIC FOR INCREASES IN OTHER HIRING LEVELS
Staffing Agencies See Demand in Technology Sector for Workers
Monday, September 5, 2011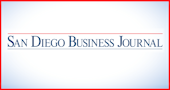 Although unemployment in San Diego County continues to hover at 10.5 percent, demand for technical, engineering and health care workers in the temporary and permanent placement space is fueling optimism among local staffing agencies.
Phil Blair, president and executive officer of Manpower San Diego, one of the largest staffing agencies locally, said the number of temporary jobs that are available is about flat compared to a year ago, but San Diego is beginning to turn a corner.
"We're bullish for 2012," Blair said. "We'll start to see an uptick in the need for workers. It will be slow but it will be steady."
Temporary jobs are becoming available anywhere that there's a need for flexibility, Blair said, but generally there's growth in the health care sector and a tapering off in defense and military support industries due to budget cuts. Hiring is also active among computer programmers, engineers and technicians earning in the hourly range of $50 to $150.
In Demand
"The highly skilled engineers and programmers are clearly in demand," said Blair, commenting that clerical, data entry and other low-wage earning jobs are seeing the least action. "Technology has done away with all of those jobs."
As the economy begins to pick up and employers gain confidence, Blair says small businesses will be the ones to bring in the temporary-to-permanent workers. Rather than Sempra or Qualcomm Inc. hiring 10,000 employees next year, it could be thousands of small businesses adding on a couple of workers, he says.
While Manpower San Diego is maintaining its workload with 40 recruiters, according to Blair, the Milwaukee-based parent company has been expanding into Spokane, Wash., and very recently into Las Vegas.
"Our business is up," he said. "We had a good year last year. We are very pleased with our sales now."
Ingram Losner, managing partner and chief financial officer of the San Diego permanent placement agency Proven Staffing Consultants, said his firm is seeing increasing activity in its areas of specialty — finance, accounting, human resources, operations support and government — but particularly in the technology and life sciences fields it serves.
Hiring gains are prevalent in the professional services sector, which is also where qualified candidates have become harder to find, he said. In fact, Losner says candidates are beginning to be presented with multiple offers.
"We've definitely seen a shift from hiring contract workers to hiring full-time workers," Losner said. "Our business close to doubled in the number of placements in the contract and full-time world year-over-year.
"The technology and life sciences companies have primarily driven the growth that we've seen and that's good news for San Diego."

Other good news, according to Losner, is Proven Staffing's projection for 80 percent growth in revenues in 2011 versus 2010. Staffing at the firm, which has offices in Los Angeles and Washington, D.C., has already doubled from a year ago to 30 employees, he said.
Finding the Right People
The challenge is finding the right people to fill positions, especially in life sciences and technology, Losner said.
"It's becoming increasingly difficult to find qualified people for the number of positions we have," he said.
At the San Diego-based temporary placement agency TriStaff Group, CEO Gary O. van Eik says the company is performing 20 percent better this year than last year. According to the San Diego Business Journal's Temporary Placement Services list published in May, TriStaff reported $15 million in local gross revenue for fiscal year 2010.
Although the company added a couple of recruiters to its 50-person staff at four locations across the West, van Eik says the company is cautious about its expansion.
Information technology, programmers and jobs related to engineering are the first areas of growth to come to mind for van Eik, who says sales and marketing, call centers, manufacturing, assembly, environmental, health and safety, oil and gas, and renewables are also doing well.
"Up in the Bay Area unemployment for engineers is about 3 percent," he says.
Van Eik says the climate is one that's improving over a year ago and the general mood is one of optimism.
"This is my 40th year in the business and I've seen this (downturn) about five times," he said. "I've never seen it quite like this, but we're still doing very well."