HOSPITALITY: LOCAL MARKET RANKS SECOND NATIONALLY WITH $1.5 BILLION IN PROPERTY SALES
In Record-Setting Stretch, Hotel Owners Sell High
Monday, September 5, 2011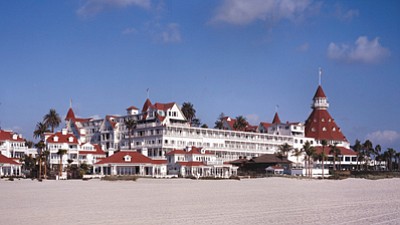 In the 20-plus years he's been tracking hotel sales, Atlas Hospitality Group President Alan Reay said he's never seen a stretch in San Diego comparable to what happened in the first half of 2011.
The Irvine-based brokerage and consulting firm, as well as other national authorities, recently reported that the San Diego market ranked second in the U.S. for property acquisitions, ringing up $1.5 billion in hotel property sales, second only to New York City's $1.7 billion.
"That was a record-setting number of San Diego hotel transactions for one six-month time span," Reay said, adding that he and other observers will be watching to see whether recent turmoil in the economy impacts the region's ability to pull off an encore in coming months.
Reay said a confluence of factors contributed to the local buying spree, including hotel performance fundamentals that have steadily been improving since mid-2010. Several of the local transactions of early 2011 involved high-profile trophy properties, whose owners decided to take advantage of a climate where numerous large, well-capitalized investment firms came off the sidelines to put long-parked cash to work.
"When owners saw how much the values had jumped since the down cycle of 2009, they decided to sell now," said Reay, noting that three of the top five U.S. markets for hotel property sales were in California, with San Diego topping Los Angeles' $606 million and San Francisco's $404 million.
No. 1 in the U.S.
Atlas and others noted that the nation's largest transaction of the first half was the $570 million purchase of the 1,625-room Manchester Grand Hyatt, San Diego's largest hotel, by Maryland-based Host Hotels & Resorts Inc.
That period also saw Sunstone Hotel Investors Inc. of Aliso Viejo acquire a majority interest in the Hilton San Diego Bayfront for $475 million; and New York-based Blackstone Group LP take a majority stake as part of a $425 million refinancing of the historic Hotel del Coronado.
Also in the first half, Maryland-based Pebblebrook Hotel Trust acquired the Westin Gaslamp Quarter for $110 million, while Maryland's Chesapeake Lodging Trust bought Hotel Indigo in East Village for $55.5 million.
Two relatively new but financially troubled downtown properties also changed hands, with Boston-based Rockpoint Group buying the W Hotel out of foreclosure for $56 million, and Kimpton Hotel & Restaurant Group LLC of San Francisco purchasing the Se San Diego hotel out of bankruptcy for $49 million.
Tough Act to Follow
The local climate reflected a national scene in which hotel purchases climbed significantly from the same period of 2010. The hotel brokerage division of Jones Lang LaSalle recently reported that transaction volume for the Americas region reached $7.4 billion in 2011's first half, a 180 percent increase from the year-ago period.
According to Bob Webster, managing director of Jones Lang LaSalle Hotels, the firm tracked 14 sales above $100 million nationwide in the first half of 2011, the third-highest ever recorded for the January-through-June period.
Experts said the local streak of big-ticket sales will be tough to repeat. While smaller properties continue to change hands, the only large reported transaction in the second half of 2011 as of Aug. 31 has been the $71 million purchase of the San Diego Marriott La Jolla by HEI Hotels & Resorts of Connecticut.
Also, owner Lowe Enterprises has placed the Estancia La Jolla Hotel & Spa up for sale; Atlas has projected it will fetch approximately $63 million.
Numbers Improving
Robert Rauch, president of San Diego-based hospitality consulting firm R.A. Rauch & Associates Inc., said local hotel revenue, as well as occupancy and room rates, continue to improve, and the San Diego region generally has a strong year-round tourism climate, as well as barriers to entry for new properties.
Those factors will likely make hotels attractive to investors for the foreseeable future, although under current conditions, Rauch said he is generally not as bullish about the investment market as he was a few months ago. He said acquisition momentum will likely slow because available trophy properties have been snapped up.
The larger real estate investment trusts that wanted to go shopping have already done so, and others are finding that there aren't the same number of lending sources as there were when the buying season was at its peak.
"The lenders are out there, but it just takes some work to find them," Rauch said. "It's going to be a market-by-market, asset-by-asset situation."