Sonepar USA Acquires OneSource Distributors of Oceanside
Monday, October 31, 2011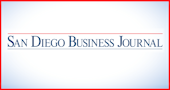 Philadelphia-based Sonepar USA, a subsidiary of the privately held Sonepar Group of France, announced Oct. 27 that it has acquired Oceanside-based OneSource Distributors LLC, a wholesale supplier of electrical, industrial and related supplies and services.
"We cannot share details about the acquisition price, but Sonepar USA does not plan any changes in the local management structure, or the size of the local workforce," said Sonepar spokeswoman Maria Venezia, in an Oct. 28 email.
OneSource, which was founded in 1983 and employs more than 300 at 13 locations, recently ranked third on the San Diego Business Journal's 2011 list of San Diego County's largest private companies. According to Electrical Wholesaling magazine, it is also the nation's 28th largest supplier of electrical equipment.
The company employs approximately 230 locally and reported revenue of $335 million in 2010, up from $245 million in 2009.
Venezia said all senior managers, supervisory personnel and team members will continue in their current roles, including Chairman and CEO Bob Zamarripa, President and COO Mike Smith and CFO Tim Walsh.
"We are thrilled to be part of the Sonepar USA team," Zamarripa said, in an Oct. 27 statement. "Our cultures align incredibly well, and I believe we will accelerate our growth, offer more value to our customers and further increase the career opportunities for our people."
Sonepar USA CEO Dave Gabriel said the acquisition "further enhances our growth in the California market and truly makes us a leader in that region."
The transaction follows Sonepar USA's August acquisition of Independent Electric Supply Inc., based in San Carlos, a $400 million electrical distributor with extensive operations in Northern and Central California.
The Sonepar Group, based in Paris, is a global player in electrical supply distribution, with a presence in 35 countries.