WORKFORCE: WELL PAYING POSITIONS LEAD TO MORE JOB CREATION
High-Tech Help Wanted at Some Local Firms
Monday, October 24, 2011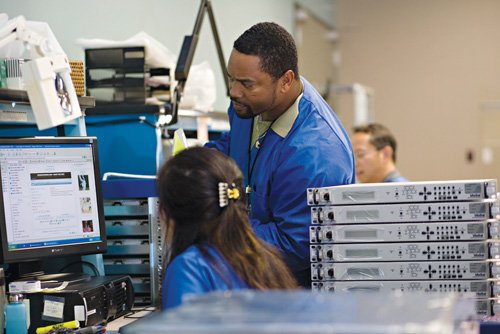 Mitchell International, a San Diego maker of software targeting auto insurers and auto repair servicers, and ViaSat Inc., a Carlsbad maker of satellite equipment, are just a few of the local high-tech companies that are looking for people, and not just a few.
Each business said the number of job openings fluctuates, but was most recently counted at more than 100. In ViaSat's case, a variety of engineering positions dominate the list, while the two main job categories at Mitchell International are software development and product support.
The jobs both companies have openings for pay wages far above the regional average of $45,000. And because the jobs pay well, they have a greater impact on the local economy, resulting in many other jobs being created, said Kelly Cunningham, an economist with National University's System Institute for Policy Research, a nonprofit research firm based in La Jolla.
A study done by NUSIPR on the high-tech industry here released Oct. 11 reported there were 138,800 workers in the sector at the end of 2010, making up 11 percent of the region's total workforce.
The Multiplier Effect
"Because of the multiplier effect, these higher paying jobs stimulate an additional 224,200 jobs, so together there are more than 363,000 jobs that can be traced to technology, or 29 percent of all payroll jobs in the county," Cunningham said.
The study also counted 6,023 businesses in the high-tech sector here, up by 33 from 2009, and it found that the aggregate payroll of those businesses was about $13 billion, or nearly 21 percent of the region's total payrolls.
Citing data culled from the state's Employment Development Department, the study said the region's overall employment payroll for all companies last year was $62.5 billion, and the average salary was $50,500. However, by excluding high-tech salaries that average drops to $45,000, the study found.
The high-tech industry here hasn't been immune to the Great Recession, Cunningham said.
"We lost a lot of computer electronics jobs in the last few years that have gone to countries where it's cheaper to make things," he said.
In 2008, the region had a total of 141,000 jobs in high-tech, making up nearly 11 percent of the total, and the total payroll of the employers was $13.4 billion, the study found.
The sector has seemed to weather the effects of the recession better than some others, which is a testament to its diversity, Cunningham said.
"The big thing is that San Diego's tech economy is diversified. It's not like Silicon Valley which is over-represented by software," he said. The sector now includes growing biotech and biomed sub sectors, as well as a gradually rebuilding defense segment, which was decimated by the last major recession in the early 1990s, Cunningham said.
Within the defense and transportation segment, the total number of jobs last year was 23,738. Yet in 1990, the peak for defense employment here, that same group had about 41,000 jobs, he said.
"General Dynamics was the area's largest employer then and had about 20,000 employees," he said.
One of the area's fastest-growing technology segments is software, which numbered only 12,600 in 1990, but last year counted 27,200 workers, according to the NUSIPR study.
Mitchell International has been expanding in recent years and added several offices including one in Salt Lake City this year, said spokeswoman Regina Merkey.
The company's software is always being updated and is well-received by customers, she said. Mitchell's current total employment is 1,786, with local employment at 928, up from 720 last year.
Bob Slapin, executive director at the San Diego Software Industries Council, said the total jobs number in the NUSIPR study was low and didn't count many companies that aren't engaged in making or providing software but employ IT personnel and engineers. He estimated total employment in the software segment at 47,000.
Promoting San Diego
The trade group and the San Diego Regional Economic Development Corp. have recently launched a campaign publicizing San Diego as a high-tech center and the fact that it has about 6,000 job openings in software engineering and related positions.
In addition to launching a website, www.sdtechcareers.org, targeting job seekers and employers/ recruiters, the campaign involves placing print ads and mobile billboards at various locations, beginning in one undisclosed region of California, Slapin said.
"We're working with our sponsors (including Sempra Energy and Sony) to coordinate their recruiting efforts with our recruiting efforts," he said. "The message we're trying to get across is that San Diego is still not perceived as a tech center by software engineers outside the region and that's a perception we have to change."