ENERGY: SITE SELECTED FOR SOITEC'S PLANT; POWER PURCHASE PLAN IS PENDING
Clean-Tech Community Awaits Solar-Panel Factory
Monday, October 17, 2011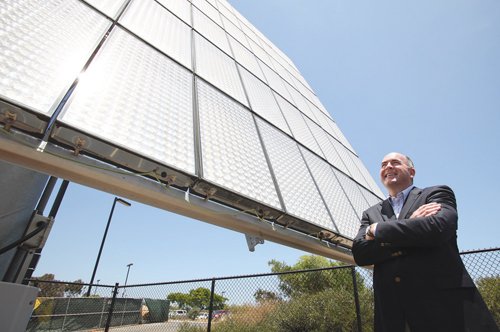 SOITEC SOLAR INC.
Top local executive: Clark Crawford.
Revenue: Not disclosed.
No. of local employees: 15.
Headquarters: La Jolla.
Year founded: San Diego operations launched in 2010.
Stock symbol and exchange: Parent company Soitec is traded as SOI on the Paris Stock Exchange.
Company description: Manufacturer of solar panels that use concentrator photovoltaic technology to capture more of the sun's rays. Target customers include independent energy producers and solar farm developers.
Key factors for success: Soitec Solar was strongly courted by San Diego's government and business scene since it launched U.S. sales in 2010. From its local base, the company has easy access to potential clients in the Southwest as well as top talent who will help propel growth.
CLEAN-TECH CLUSTER'S LOCAL IMPACT
Key sectors: Clean transportation, clean-energy storage, energy efficiency, smart grid and solar energy generation.
Total companies in region: More than 800.
No. of regional jobs: 4,000.
Combined annual payroll: $398 million.
Direct economic impact: $1.34 billion.
Total economic impact: $2.25 billion; figure includes the products, materials and services required and supplied locally to support the direct activities of clean-tech companies, and expenditures of employees and of workers at supplier companies.
Source: Independent Sandag analysis commissioned by CleanTech San Diego and Bank of America.
Soitec Solar Inc...