ENERGY: SITE SELECTED FOR SOITEC'S PLANT; POWER PURCHASE PLAN IS PENDING
Clean-Tech Community Awaits Solar-Panel Factory
Monday, October 17, 2011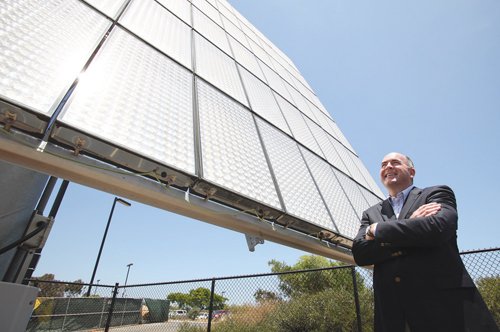 SOITEC SOLAR INC.
Top local executive: Clark Crawford.
Revenue: Not disclosed.
No. of local employees: 15.
Headquarters: La Jolla.
Year founded: San Diego operations launched in 2010.
Stock symbol and exchange: Parent company Soitec is traded as SOI on the Paris Stock Exchange.
Company description: Manufacturer of solar panels that use concentrator photovoltaic technology to capture more of the sun's rays. Target customers include independent energy producers and solar farm developers.
Key factors for success: Soitec Solar was strongly courted by San Diego's government and business scene since it launched U.S. sales in 2010. From its local base, the company has easy access to potential clients in the Southwest as well as top talent who will help propel growth.
CLEAN-TECH CLUSTER'S LOCAL IMPACT
Key sectors: Clean transportation, clean-energy storage, energy efficiency, smart grid and solar energy generation.
Total companies in region: More than 800.
No. of regional jobs: 4,000.
Combined annual payroll: $398 million.
Direct economic impact: $1.34 billion.
Total economic impact: $2.25 billion; figure includes the products, materials and services required and supplied locally to support the direct activities of clean-tech companies, and expenditures of employees and of workers at supplier companies.
Source: Independent Sandag analysis commissioned by CleanTech San Diego and Bank of America.
Soitec Solar Inc. has yet to announce where exactly it will locate its massive solar-panel factory and headquarters, and it looks like the eagerly awaiting clean-tech community will have to remain patient for at least another month but possibly even longer.
Soitec Solar, the San Diego-based unit of the French semiconductor company Soitec SA, has confirmed that it has chosen an existing building within the city limits of San Diego for its $100 million manufacturing plant, but officials are remaining quiet on the details until the company's power purchase agreements with San Diego Gas & Electric Co. are approved by the California Public Utilities Commission.
That's because SDG&E, a subsidiary of San Diego-based Sempra Energy, will be responsible for the lion's share of initial demand at the factory. According to the utilities commission's draft resolution, Nov. 10 is the earliest that the bulk of the SDG&E purchase agreements could be approved.
"Soitec's plans to build a factory in San Diego to manufacture our Concentrix CPV technology are moving forward," said Clark Crawford, vice president of Soitec Solar, in an emailed statement. "We are currently in the process of filling key positions for the factory, and we have plans to announce the factory location pending approval" of the power purchase agreements, Crawford said.
The company didn't provide any further explanation of why the process is taking longer than expected; Soitec initially hoped to have an announcement in August and has reportedly looked at potential sites throughout the county. The build-out was originally supposed to begin by the end of the year, with production starting in late 2012.
Soitec's highly-automated factory will produce solar panels and related equipment to supply energy producers in the desert Southwest. It's expected to employ about 450 people.
SDG&E Power Agreements
SDG&E in May signed 25-year agreements with units of Soitec for as much as 160 megawatts of solar energy. Earlier in the year, SDG&E also announced that it would obtain solar-generated power from Tenaska Solar Ventures of Nebraska, which is building solar farms in Imperial County with panels produced by Soitec. The Tenaska power purchase agreement for 150 megawatts also needs approval from the California Public Utilities Commission; a date for that hasn't been set, but the meeting is expected to occur in early December, a Soitec spokeswoman said.
The solar projects will help SDG&E meet the State of California's mandate for utilities to use renewable energy sources to produce at least 33 percent of its electricity by Dec. 31, 2020.
As it works to firm up details of its manufacturing plant and iron out its power purchase agreements, Soitec has been working closely with the City of San Diego and CleanTech San Diego, a nonprofit trade group whose mission is to accelerate the region as a world leader for clean technology.
Part of CleanTech's role is acting as an advocate for the "green" economy, which is a necessary job today in light of ever-sobering news of Fremont-based Solyndra, the solar panel maker that collapsed despite a U.S. government loan of $535 million.
"I don't think that it helps the industry," Jason Anderson, vice president of CleanTech San Diego, said of the recent media scrutiny of the clean-energy sector. "It's unfortunate what happened, but at the same time there is a lot of potential for growth in the San Diego region."
Of CleanTech San Diego's 810 members, 212 deal with solar energy, according to the organization's just released 2011 annual report.
Clean-Tech's Regional Impact
CleanTech San Diego recently commissioned an independent analysis of the five fastest-growing clean technology sectors in San Diego. The study, by the San Diego Association of Governments, found that the clean-tech industry contributes $2.25 billion to the region's economy annually. Sandag sought to measure the impact of clean transportation, clean-energy storage, energy efficiency, smart grid and solar energy generation.
"The economic impact analysis for CleanTech San Diego was completed using rigorous analytical techniques and reliable data," Beth Jarosz, senior economist and demographer for the Sandag Service Bureau, said in a statement.
Anderson said the economic impact report provides a baseline to track the growth of the fast-growing cluster in future years.