MOBILE HEALTH: WIRELESS TECHNOLOGY A KEY TO IMPROVING CARE, LOWERING NATION'S $2.5 TRILLION IN MEDICAL SPENDING, EXEC SAYS
Healthier Practices
Monday, October 10, 2011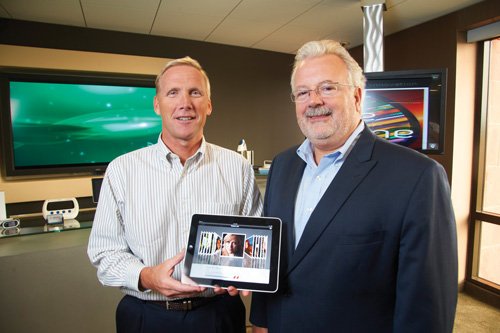 In San Diego's leading-edge mobile health scene, two very disparate industries with strong local roots — personal genomics and wireless communications — are converging in unexpected ways to create new tools and services that will transform the way people approach chronic disease.

The term "mobile health" refers generally to using wireless technology for health care delivery and personal health management; for example, giving a patient with cardiac problems a wireless vital-signs monitor that can alert a doctor before a heart attack strikes.

While there are many benefits of the mobile approach, it's seen primarily as a way to lower the nation's soaring medical costs and improve care, said Donald Casey, CEO of the West Wireless Health Institute, a San Diego-based medical research organization. "Health care costs are one of the most pressing issues of society today," Casey said. "We have to start thinking about why that is."
Casey quickly points to two key reasons for skyrocketing health expenses: chronic diseases — which account for three-quarters of the nation's $2.5 trillion in annual medical spending, according to the Centers for Disease Control and Prevention — and an "infrastructure-dependent" health care delivery system that generally relies on patients to experience a major health problem and then make an expensive trip to the hospital.
"Today we have a ubiquitous broadband network and significant smartphone usage," Casey said. "If you would have tried to change the system five to seven years ago, you could not have done it. But now you can."
West Wireless and other local mobile health advocates, including San Diego-based wireless technology giant Qualcomm Inc. and industry trade group Wireless-Life Sciences Alliance, have helped foster innovative San Diego companies such as DexCom Inc., which makes a wireless glucose monitoring system, and Sotera Wireless Inc., which is developing products that help doctors remotely monitor patients' vital signs.
Genomics Adds New Twist
But now, as personal gene sequencing becomes faster and cheaper, emerging companies are pushing the limits of mobile health. Take, for instance, MD Revolution, a personalized medicine practice that's on track to launch by the end of the year in the Scripps Ximed medical office building in La Jolla.
The 10-person practice — which will forgo all traditional trappings of a doctor's office, including the white lab coats — will guide patients through their personal DNA sequencing and equip them with wireless devices to track progress on their health goals, said Samir Damani, a Scripps Clinic cardiologist who's opening the business in partnership with Sunil Bhoyrul, director of bariatric surgery at Scripps Memorial Hospital.

"There's a push toward preventative care, and with good reason," said Damani, who also has a background in genomics. "Chronic disease is highly preventable and the costs are unsustainable."
Chronic Problems
Some 133 million Americans, or 45 percent of the population, have at least one "chronic" condition such as obesity, asthma, heart disease and diabetes, according to The Partnership to Fight Chronic Disease, a Washington, D.C.-based organization.

MD Revolution's doctors will connect patients with a genetic testing service from a company such as Mountain View-based 23andMe Inc. or San Diego's Pathway Genomics Corp. When the results come in, doctors will explain the personal genome report and create a plan for proactive health care management. "We'll help them understand where their predispositions lie," he said. "DNA is not deterministic. But it can help patients become proactive and learn about the things that are a part of them."
Patients will then be equipped with mobile health monitoring tools such as BodyMedia Fit's armband to help with weight loss, a Withings blood pressure monitor, a Nike SportWatch, and a Zeo Sleep Manager. "We want to be able to show from research that we can actually get better outcomes this way," said Damani, who has plans to expand the business into other markets. "We feel as though this is the future of medicine."
ITunes for Your DNA
Another San Diego startup, Portable Genomics, is also looking to capitalize on the public's growing interest in understanding their genetic makeup. The development-stage company was formed by a team of molecular biologists from Bordeaux, France, who sought a way to make lengthy and complicated DNA sequencing reports easy for the average person to read and understand on a mobile device.
"We're bringing a new concept that will help visualize genomic data," said founder and President Patrick Merel, who located his business in San Diego because France's bioethics laws don't allow consumers to access their DNA profile. Merel said he's raised $150,000 in venture funding.

Portable Genomics' prototype uses an interface modeled after iTunes to let consumers "browse" their personal library of diseases and biomarkers on an iPhone, iPad, or Apple TV, Merel said. The software also will educate consumers on smart lifestyle adjustments based on their genomic data.
"The personal genomics market is still in its infancy," said Merel, who said he chose San Diego County in part because it's home to gene-sequencing leaders Illumina Inc. and Life Technologies Corp. and already has a solid base in mobile health.
Even though there are dozens of DNA testing companies today, the cost is still around $5,000 to sequence a whole human genome — a steal when compared with the $3 billion it took to sequence the first human genome in 2000, but still far from affordable for curious consumers. "The boom is supposed to arrive 2013, when the cost will go down to $500 per genome," Merel said. "And by 2014, it should be at $100. We want to be ready for that."
Portable Genomics is also exploring fun "creativity applications" for genetic data, such as converting DNA codes into musical notes that create personal songs and ring tones, Merel said.
"It's just fascinating how genomics and wireless technology are coming together," said Paul Sonnier, vice president of partner development for the Wireless-Life Sciences Alliance and founder of the 7,300-plus-member Wireless Health group on LinkedIn.