TECHNOLOGY: TRANSIT FARE SYSTEM TO LET RIDERS PAY WITH THEIR CELLPHONES
Windy City, Weighty Deal: Cubic Lands $454M Chicago Pact
Monday, November 28, 2011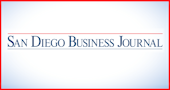 CUBIC CORP.
CEO: Walter J. Zable.
Revenue: $1.28 billion in 2011; $1.19 billion in 2010.
Net income: $85 million in 2011; $70.6 million in 2010.
No. of local employees: Approximately 1,100.
Headquarters: Kearny Mesa.
Year founded: 1951.
Stock symbol and exchange: CUB on the New York Stock Exchange.
Company description: Defense contractor and provider of automated fare collection systems and services.
Key factors for success: Cubic has deep experience in the sector. It is the world's largest deliverer of automated fare collection systems and services for public transport. The company has been in the transit business for 35 years and has been involved in hundreds of projects in 40 major markets on five continents.
A unit of San Diego-based Cubic Corp. received a record $454 million contract for mass transit equipment and related services, the company announced Nov. 17.
Under the deal, Cubic Transportation Systems will deliver, operate and maintain the Chicago Transit Authority's next-generation open payments system, one that will accept a credit or debit card as a ticket and ultimately mobile phone payments as well.
Cubic said $454 million is a North American record for a contract covering automated fare collection equipment.
With the award's approval Nov. 15, work on the project is set to begin in January or February. It will take two years before the transit authority transitions away from its "closed loop" fare collection system, or selling of its own magnetic tickets and smart cards, and implements the new payments system around the first quarter of 2014, according to Eric Reese, the CTA's general manager of business development.
The Chicago Transit Authority provides an estimated 1.6 million rides during an average weekday on a system comprised of more than 1,700 buses and 144 rail stations, according to Reese. Currently, riders purchase their passes at one of the rail stations or 700 retail locations. With the new system, however, customers will be able to use their existing credit or debit cards as tickets, and the passes will become available at the rail stations and more than 2,000 retail locations, he said.
Riders without credit or debit cards will be issued reloadable prepaid debit cards that can be used for everyday purchases and Chicago Transit Authority rides.
Allows Mobile Phone Payments
Dave Lapczynski, senior vice president of services for Cubic Transportation Systems, said the system will also be capable of accepting mobile phone payments, although, there are only a few mobile phones in the market with that capability currently.
Lapczynski said the engineering staff working to design the system and write the software is based in San Diego.
Randy Vanderhoof, executive director of the New Jersey-based Smart Card Alliance, a nonprofit industry association dedicated to raising awareness of smart card technology, said the Chicago Transit Authority is part of a growing trend of transportation agencies that are changing the way they accept fare payments.
"What's been happening over the last 10 years is transit agencies have moved away from token and paper tickets to smart card fare cards," Vanderhoof said. "Those have been proprietary, closed loop payment systems. The newest trend is to use bank-issued cards, credit cards and prepaid cards."
Transportation agencies in Philadelphia and New York City are planning or initiating upgraded payments systems, Vanderhoof said. He said it's part of a technological shift in the payments market toward contactless chip technology, which allows customers to tap a card rather than swipe it.
"This technology is soon to be built in mobile phones so that consumers can have their payment stored inside their mobile phone," he said. "They'll simply tap their phone at the point of sale or when entering the subway, rail or bus, rather than carry a separate card."
System Deemed Best Value
Reese said Cubic was chosen to implement the system over undisclosed competitors because it provided the best value to the CTA.
"They offered a fantastic technological solution as well as operational plan," he said, of the 12-year partnership that involves Cubic providing call center support and building a website to manage the payments.
Part of the "positive financial solution" that Cubic is offering is financing the equipment, which alleviates the Chicago Transit Authority's capital investment, Reese said. Cubic is also assuming the risk of labor cost increases and card fee increases, as well as the risk for credit card security breaches, he said.
"The new system will save us money by allowing us to save on increased labor costs and by shifting the risks for the card fees and fraud," said Reese, adding that the CTA benefits because it will no longer be issuing and creating its own fare media.
Cubic will be the systems integrator and services provider, leading a team that will also include First Data Corp., Carolyn Grisko & Associates, Americaneagle.com, Bank of America and Bank of America Merchant Services, according to a Cubic news release.
The Chicago Transit Authority has been a Cubic customer since 1993.
"This is a great opportunity to provide long-term services to the CTA," Lapczynski said. "We'll have them as a customer for the next 12 years."