DEFENSE: COMPANY AIMS TO DELIVER UNMANNED HELICOPTER FITTED FOR ROCKETS IN 2013
Navy Puts Northrop Project on Fast Track
Monday, November 28, 2011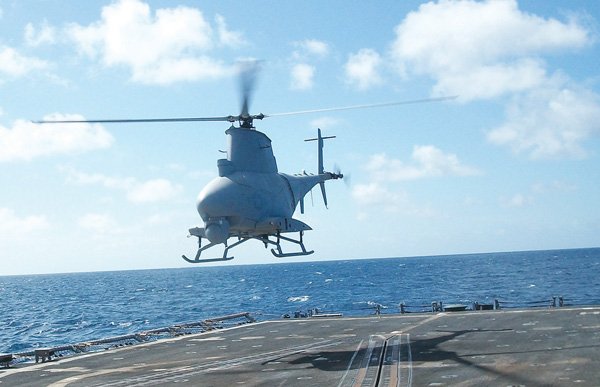 This fall, the Pentagon decided to extend the time the aircraft will spend backing up troops in northern Afghanistan.
On top of that, the U.S. Navy has asked Northrop to fit the helicopter with a weapon.
Also, Northrop officials say the Navy has expressed interest in a larger model of the Fire Scout, which will be able to fly longer, fly farther, and carry heavier loads than the original.
Much of the work is being done in Rancho Bernardo, home of Northrop's unmanned aircraft brain trust. Northrop has roughly 200 employees in an integrated program team capable of working on Fire Scout, according to the company.
Northrop and the Navy plan to attach a laser-guided, 70 mm rocket to the helicopter. Under a $17 million contract awarded Sept. 23 by Naval Air Systems Command, Northrop will equip the Fire Scout to carry BAE Systems' Advanced Precision Kill Weapons System rocket, known in Defense Department lingo as APKWS.
Northrop is supposed to deliver a Fire Scout fitted for rockets by March 2013.
'Rapid Development Contract'
It's a "rapid development contract," said Mike Fuqua, director of business development for tactical unmanned systems at Northrop Grumman and a retired Navy captain. Nevertheless, the Navy and the contractor will probably need the full 18 months to certify the weapon, Fuqua said.
If successful, the Fire Scout would join General Atomics Aeronautical Systems Inc.'s Predator and Reaper aircraft as a combination spy aircraft and weapon system. Predator and Reaper are fixed-wing aircraft, not helicopters. The U.S. Air Force and the CIA operate Predator and Reaper drones equipped with Hellfire missiles, a product of Lockheed Martin Corp.
The Navy has taken delivery of about two dozen Fire Scout helicopters, Northrop officials said. The program calls for the Navy to buy 168 aircraft in all. The helicopter at the core of the Fire Scout is a small model developed by Schweizer Aircraft Corp., now made by Sikorsky Aircraft Corp. (part of publicly traded United Technologies Corp.).
The Navy is planning to send Fire Scouts to sea on board its new, small Littoral Combat Ships.
The Navy is "very concerned about the small swarming boat threat" and could use Fire Scout to counter that, Fuqua said.
Swarming is a tactic where an adversary uses dozens of small motorboats to harass a Navy ship, often converging and departing quickly. The Iranian military uses it, according to John Pike, director of GlobalSecurity.org, an Alexandria, Va., think tank.
Gathering Intelligence
For now, though, the Fire Scout has duties hundreds of miles from any ocean.
The helicopter has been at work in northern Afghanistan since May, according to Northrop. Supported by both sailors and Northrop employees, Fire Scout is gathering intelligence: specifically, 300 hours of full-motion video every month.
The Naval Air Systems Command awarded Northrop an $18.7 million contract in late September to carry that work for another year, through October.
Work on a larger version of the Fire Scout, roughly twice as heavy as the original, is also going forward. Instead of the Schweizer/Sikorsky helicopter, which weighs about 3,000 pounds when loaded with fuel, the new model uses an airframe from Bell Helicopter Textron Inc.
Fuqua said that Northrop and Bell flew the bigger model, dubbed "Fire-X," for the first time in December.
The Defense Department has not signed a contract to buy the bigger helicopter. Fuqua said, however, that the Navy has expressed an interest in buying 28 of the larger models under an "urgent operational requirement." Fuqua said the Defense Department envisions using the larger helicopters for special operations missions.
Projects funded under urgent operational requirements go in supplemental military budgets, Pike said. It's harder for Congress to vote against a war supplemental budget than against the core Pentagon budget, the analyst noted.