HEALTH CARE: REGION A HOTBED FOR CIRCULATING TUMOR CELLS RESEARCH
Local Biotechs Focus on Blood Tests for Cancer
Monday, November 28, 2011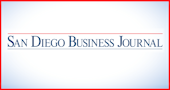 Cancer diagnoses usually require an invasive biopsy, with doctors using a needle or knife to remove sample cells from the suspected tumor. It's effective, but painful.
There soon may be a much easier and less painful option, thanks to the innovations of San Diego biotech companies Epic Sciences Inc., Silicon Biosystems Inc. and Biocept Inc.
These companies, in addition to a specialized team of researchers at The Scripps Research Institute in La Jolla, are focused on the science behind so-called "circulating tumor cells," which are hard-to-find particles that break away from the cancer tumor and float around in the patient's bloodstream.
By capturing and analyzing these cells, often referred to as CTCs, doctors can use a simple blood draw to diagnose cancer and track patients' progress throughout the course of therapy — not unlike the way that people with leukemia or HIV are tested regularly for their white blood cell count, said Peter Kuhn, a professor of cell biology at Scripps Research who founded Epic Sciences in 2009.
'Incredible Unmet Need'
"There is an incredible unmet medical clinical need for this," Kuhn said. "The challenge is that we need very precise tools that we can apply to individual patients over and over, and on a regular basis, to look at the disease and decide if the current treatment is still effective. And if it's not effective, to decide which other treatment has the highest chance of succeeding."
Epic closed on its Series A financing in the spring — amount raised and the names of investors were not disclosed — and in early November presented at the World CTC Summit, held in San Diego's Gaslamp Quarter.
"There are only a few hotbeds of CTC research in the country, and San Diego happens to be one of them," said Bob Proulx, president and general manager of Silicon Biosystems, based in La Jolla. The company's Italian parent, Silicon Biosystems S.p.A., hired Proulx as a consultant in 2010 to help find a fitting headquarters city for the American subsidiary.
San Diego County is also home to major genetic analysis companies Life Technologies Corp. and Illumina Inc., whose equipment can come into play downstream, studying the exact DNA makeup of circulating tumor cells.
Proulx established the San Diego office of Silicon Biosystems in October 2010; he said he expects the business to turn a profit in 2012.
Hunting Down Rare Cells
Silicon Biosystems' DEPArray technology traps circulating tumor cells in a cage, keeping them pure and isolated for analysis. The company recently entered into a contract to supply its research instruments to Philadelphia's Fox Chase Cancer Center, one of the country's top cancer research and treatment centers. Terms were not disclosed. A second deal involving a pharmaceutical company is expected in the first quarter.
Proulx said the company hopes its equipment will pave the way for drug discovery and diagnosis — the latter of which will require U.S. Food and Drug Administration approval.


Meanwhile, Biocept, a 15-year-old laboratory testing company led by Executive Chairman David Hale, is developing a collection of diagnostic tests to analyze cells that have been captured with its proprietary Cell Enrichment and Extraction, or CEE, system.
The CEE system can consistently capture CTCs so rare that they may be present in only one of every 50 billion to 100 billion blood cells, the company said. The U.S. Patent and Trademark Office on Nov. 11 issued Biocept a patent for its platform, and the company is now in the launch phase for its OncoCEE-BR test for breast cancer.
Biocept has entered into a partnership with cancer diagnostics company Clarient Inc., owned by GE Healthcare, to sell the breast cancer blood test in the U.S.
"I believe that San Diego is incredibly well positioned to lead this space, but we are still in the very beginning," said Kuhn, who's also the principal investigator for Scripps' Physical Sciences-Oncology Center, which studies the behavior and survival of circulating tumor cells. It's the only center of its kind funded by the National Cancer Institute. "We're nowhere near the impact that we will have with this."