Manchester Acquiring Union-Tribune
Friday, November 18, 2011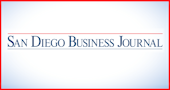 Platinum Equity LLC, the Beverly Hills private equity firm that acquired The San Diego Union-Tribune in May 2009, said Nov. 17 that it's selling the area's largest daily newspaper to an entity owned by developer and hotelier Doug Manchester.
John Lynch, a longtime radio executive, is president and CEO of MLIM LLC, the company buying the U-T.
Terms of the agreement weren't disclosed, but a press statement said the deal should close by Dec. 15.
The sale may come as a surprise to many people since Manchester ostensibly was deleveraging his investments in recent years in the wake of the overall real estate market downturn and a divorce.
In March, Manchester Financial Group sold its majority stake in the Manchester Grand Hyatt Hotel for about $570 million. That followed the sale of his stake in several other hotels, including the San Diego Marriott Marquis & Marina.
After Platinum Equity acquired the U-T, it revamped the newspaper's entire operations, laying off many longtime staffers and installing a new management team led by Publisher Ed Moss.
As a result of all the changes, the paper expanded its readership and improved its financial performance, according to Platinum Equity.
The paper's late-week daily circulation was listed as 261,298, nearly exactly what it was when the paper was sold by the Copley Press.
In the press statement, Manchester said he looked forward to building on the foundation established by the current management and ownership, but gave no hint about any possible changes.
— Mike Allen