BIOTECH: CLINICAL TRIAL PIVOTAL FOR DEMONSTRATING LIGHT THERAPY'S VALUE
PhotoThera Advances Testing for Laser-Based Stroke Treatment
Monday, May 30, 2011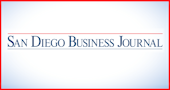 PHOTOTHERA INC.
CEO: Arthur Taylor.
Financial information: Raised $50 million.
No. of local employees: About 25.
Investors: Warburg Pincus, The Vertical Group, Delphi Ventures, Hamilton BioVentures, De Novo Ventures.
Headquarters: Carlsbad.
Year founded: 1997 as Acculaser, became PhotoThera in 2002.
Company description: Biotechnology company developing transcranial infrared laser therapy for people who have suffered an ischemic stroke.
PhotoThera Inc., a Carlsbad-based biotechnology company, has begun recruiting patients for a pivotal clinical trial of its patented transcranial infrared laser therapy for people who have suffered an ischemic stroke.
The clinical trial, being conducted at hospitals and medical centers around the world, is crucial to demonstrating the effectiveness of the treatment now that the safety has been clearly demonstrated in two previous trials.
"This is a pivotal trial," said Arthur Taylor, chief executive officer. "We won't see the data because we are blinded until we find out if the treatment is effective."
PhotoThera has been working on the infrared light treatment, which may have applications for Alzheimer's and Parkinson's diseases as well, since 1997 when the company, then called Acculaser Inc., was founded by Dr. Jackson Streeter.
The goal of the laser light treatment is to limit the damage to brain tissue caused by an ischemic stroke — a stroke prompted by a blood clot. The penumbra — the still viable brain tissue around the blood clot kill zone — is the target for the infrared wavelength light.
"In a stroke some tissue immediately dies," Taylor said. "The penumbra is stunned and is waiting for a signal to tell it whether it should live or die. Infrared light creates and stabilizes cellular metabolics and triggers a return to normal activity."
Huge Market for Treatment
The market for an effective, emergency treatment for people who have had a stroke is huge. The last treatment brought to market was TPA, a clot-busting drug that earned U.S. Food and Drug Administration approval in 1996.
"Stroke is such a huge unmet need that clinicians are eager to have more ways to treat," Taylor said. "You have limited time to do anything to help the victim — you have literally minutes."
The treatment now being studied involves using a hand-held device from a microwave-oven-sized cart, one that paramedics could easily carry, to apply light to 20 spots on the skull during a period of 40 minutes. The only downside — the safety of the treatment has been established in the first two phases of clinical trials — is that the patient's head has to be shaved.
Dr. Justin Zivin, a neurologist at the Veterans Affairs San Diego Healthcare System and professor in the UC San Diego Neurosciences Department, is leading the study team. He said they aren't having any trouble recruiting patients — the study calls for 1,000 people who have had a stroke within 24 hours — despite the requirement that patients' heads be shaved.
"I am optimistic about this study," he said.
Zivin said there are several theories on why infrared laser treatment works.
"It may decrease programmed cell death, it may increase stem cell production," he said. "Most of the time when we have therapies we don't know exactly why they work — we care about whether it works."
Simple, Portable Approach
The beauty of the PhotoThera approach is its simplicity and portability, according to Dr. Paul Lapchak, director of translational research at Cedars-Sinai.
"What's great about this, they can wheel it into the lab, paramedics can carry it, it is safe and it is safe when combined with TPA," Lapchak said. "If you didn't know whether the patient had a hemorrhagic or ischemic stroke, you can still treat them in that critical 24-hour post-event window and in the very least, not harm them and quite possibly help them."
Lapchak, who reviewed the studies, applauds PhotoThera's approach to treating stroke because, he says, most research is looking at therapies that were shown to be ineffective 10 years ago.
But he is critical of the design of the studies because he believes that the company should have tried using pulsing rather than continuous light.
"I don't think the stroke trial is using the correct parameters of wavelengths of light," he said. "Recent studies are suggesting there may be more value to pulsed light, but they would have to redesign their trial to look at that."
Marty Graham is a freelance writer for the San Diego Business Journal.