HEALTH CARE: THEY STRIVE TO IMPROVE THEIR RESPONSIVENESS IN ER
Healing Properties: Hospitals Expand Their Patient Care Facilities
Monday, May 30, 2011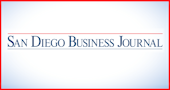 The top three health centers on the San Diego Business Journal's Hospitals list — Scripps Mercy Hospital, Sharp Memorial Hospital and UCSD Medical Center — take pride in their reductions as well as their expansions.
All three facilities say they're reducing their emergency room wait times and expanding their facilities, which are having a considerable impact on patient care.
For example, at Scripps Mercy Hospital, ranked No. 1 on the Hospitals list, the emergency department procedures have been restructured to expedite care, according to the hospital's chief executive, Tom Gammiere. With a revised goal of attending to patients within 15 minutes of arrival, the ER wait times have been reduced by two hours on average at both the San Diego and Chula Vista campuses, Gammiere said.
"The number of patients that leave without treatment has almost been reduced to zero," said Gammiere, who estimates the number of emergency room visits will increase from 96,000 last year to about 105,000 this year at the two locations.
Immediate Attention
The modified system replaces the old model of seeing the most ill patients first. Instead, all patients receive immediate attention and are sent to either an acute care track, where they receive care in a designated area of the emergency room, or an ambulatory track, where they are treated in a responsive and quick manner, Gammiere said.
As far as physical expansions, Scripps Mercy Hospital has a new parking garage which provides an additional 700 parking stalls at the San Diego campus. A new central energy plant on the campus will also provide infrastructure for an additional tower that is part of efforts to meet seismic standards required by 2030, Gammiere said.
Currently under construction is the Conrad Prebys Emergency and Trauma Center at the San Diego campus, which is being named for philanthropist Conrad Prebys, who donated $10 million toward the $40 million project. With the second phase expected to be completed in about a month, the facility will double the size of the emergency room and trauma center, increasing the number of beds to 55 and increasing the number of trauma bays from three to eight. The new center, which is expected to be completed by early 2013, is part of an estimated $200 million hospital modernization and expansion project, according to Scripps.
Sharp Memorial Hospital, ranked No. 2 on the Hospitals list, has seen changes since moving into its new emergency department and trauma center a couple of years ago. Just last year, patient volume in the emergency department increased 15 percent over the previous year, said hospital Chief Executive Officer Tim Smith. Across the board the patient volume has been increasing in the hospital, emergency department and the outpatient setting, he said.
The hospital's been managing the patient load, and reducing wait times, by implementing lean principles, Smith said.
Survey Says
"Our patient satisfaction is in the top 1 percent of the nation and it has been for the last two years since we moved in," said Smith, referring to the Press Ganey patient satisfaction survey of more than 1,000 hospitals nationwide. "At Sharp HealthCare, our overall system has increased market share for 11 straight years."
Smith said the growth in volume is contributing to a growth in net patient revenue at Sharp Memorial Hospital, which is reported on the Hospitals list as $504.23 million for 2009.
"It's great to be growing during tough financial times," he said. "It's good to be a stable financial organization."
Other keys to its success, Smith says, are its pioneering work in cardiac catheterization, open heart surgeries, heart transplants and its use of robotic surgery for prostate cancer since 2005. Smith says Sharp Memorial is also first to provide a mechanical heart pump, or left ventricular assist device, for heart failure patients.
UCSD Medical Center, ranked No. 3 on the Hospitals list, is taking similar measures to streamline operations. In addition to a focus on reducing emergency room wait times, said Thomas McAfee, dean of clinical affairs for UCSD Health System, an effort is being made to reduce readmission rates.
"We're looking at opportunities for how that could be avoided," he said, of readmissions. "We hope to be able to eliminate some wasteful readmissions that occur."
On the expansion side, UCSD Medical Center is waiting for regulatory approvals to license the Sulpizio Cardiovascular Center that should soon be up and running. The center for cardiovascular research, services and programs adds 54 inpatient beds and 22 outpatient beds and creates a new emergency department for Thornton Hospital in La Jolla. The additional 54 beds will boost Thornton's current capacity of 120, according to McAfee.
Also on the horizon is a groundbreaking for a 450,000-square-foot Jacobs Medical Center that brings an additional 245 beds to the La Jolla campus. McAfee said the $665 million project, which is scheduled to be completed in 2016, would bring 750 new hospital jobs to the area.
With the imminent opening of the cardiovascular center, and consequently higher patient volumes, McAfee says operating expenses are expected to increase 10 percent in fiscal year 2011 compared with fiscal year 2010.