A Grand Entrance for SDSU Campus Gets a Nod From Trustees
Monday, May 30, 2011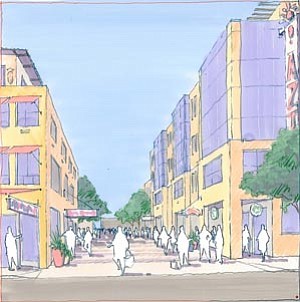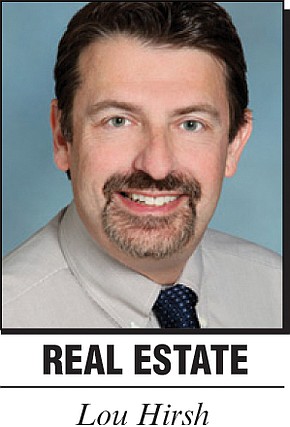 The California State University Board of Trustees recently approved plans for what would eventually be a $268 million, mixed-use student housing and retail development proposed by San Diego State University.
The project, called Plaza Linda Verde, is geared to revitalizing the university's "front door" — a blighted area just south of the SDSU Transit Center near Interstate 8.
The plan includes housing for up to 1,600 students, with retail elements geared to both the campus and surrounding community. Retail components are expected to include a community grocery store, a restaurant and other shops.
Officials said specific vendors have not been identified, but university planners are looking to entice a grocery store similar to a Trader Joe's, and a national full-service restaurant along the lines of a Chili's. The project also includes a parking structure to serve retail customers.
SDSU spokesman Greg Block said the build-out would take place over two phases, which would be constructed without the use of state funding. Debt service and operational costs would be paid for through student housing revenues and rents collected from retail spaces.
According to SDSU, the pedestrian friendly, environmentally conscious project will have wide sidewalks, tree-lined streets, open space and bicycle amenities.
Planning is still being finalized, but officials said construction on the first phase could begin as soon as 2013. The first phase would have housing for 600 students and up to 45,000 square feet of retail, with a second phase consisting of housing for another 1,000 students and an additional 45,000 square feet of retail.
• • •
Good and Bad News on Apartments: When it comes to apartment real estate in San Diego County, an improving economy means bad news for renters — as rents are forced upward amid low supply and rising demand — but good news for building owners and investors.
A new 2011 investment outlook report, by the brokerage firm Marcus & Millichap, predicts that the San Diego region's apartment vacancy rates will return to pre-recession levels this year, with a projected 3.4 percent for the overall metro area. This will occur as rising employment opportunities attract young professionals to the region, and persistent affordability challenges prevent many people from buying homes.
With job opportunities increasing in white-collar and tech-related sectors, the number of individuals between the ages of 20 and 34 migrating to the metro area will climb to 15,000 this year, which Marcus & Millichap says is more than double the annual average during the recent downturn.
Expect the effects on apartment absorption to be most pronounced near major employment centers, including downtown, Clairemont, Linda Vista and Mission Valley. Complexes close to Marine Corps Base Camp Pendleton "will receive a considerable boost in performance" this year, as construction projects at the base generate thousands of new jobs.
Meanwhile, the supply of apartments isn't rising at a great rate. Developers by year's end will have brought 1,090 new rental units onto the market, an inventory increase of 0.6 percent over a year ago, but still 40 percent below the 10-year average for apartment growth.
The brokerage firm says investor demand for well-placed apartment complexes will exceed available supply, but continued low financing rates will bolster deal flow among private buyers. Local apartment sales activity accelerated 25 percent during the past 12 months, reversing the 21 percent drop in the previous year.
• • •
Study Touts Redevelopment Benefits: Downtown San Diego redevelopment contributed $44 million more to city coffers than what it cost to provide services to the downtown area in 2010.
That was among the conclusions of a recent study, requested by San Diego City Council and conducted by consultant Keyser Marston Associates Inc., on behalf of the Centre City Development Corp..
The study said that the contributions of downtown redevelopment include helping to fund portions of the city's debt obligations for Petco Park and the San Diego Convention Center, amounting to $13.3 million. Overall downtown redevelopment is projected to contribute $1.2 billion of net benefit to the city in the next four decades.
The findings come as the state of California continues to mull eliminating local redevelopment agencies across the state, to help balance the budget.
• • •
Kilroy Expands San Diego Portfolio: More than half of the office portfolio of Los Angeles-based Kilroy Realty Corp. — 64 out of 107 properties — is in San Diego County.
The real estate investment trust has been on a local shopping spree during the past year, most recently acquiring a 166,000-square-foot building in Sorrento Mesa for just over $32.9 million. The building, which once housed Titan Corp., is at 10770 Wateridge Circle.
Send commercial real estate and development news of general local interest to Lou Hirsh via email at lhirsh@sdbj.com. He can be reached at 858-277-8904.