TECHNOLOGY: PERVASIVE PAPERLESS SYSTEM PROVIDES EFFICIENT ACCESS TO DATA
Digital Conversion Holds Promise of Lifesaving Payoffs for Kaiser
Monday, May 30, 2011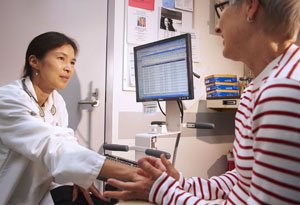 Dr. Jenny Devitt, an oncologist at Kaiser Permanente's San Diego Medical Center, saw firsthand this year how electronic medical records can save a life.
A healthy woman in her 50s went to her Kaiser allergist for an inhaler, Devitt said. At the appointment, the allergist was alerted through Kaiser's HealthConnect electronic health record system that the woman hadn't had a mammogram in three years.
"Her allergist told her that she was overdue, so the woman decided to do a walk-in mammogram," said Devitt, who's been with Kaiser for 14 years. "Low and behold, she had breast cancer. But it was caught so early that she didn't even need chemotherapy and her cure rate is so high. If the allergist hadn't seen that, who knows when we would have caught it. A lot of people put off mammograms."
Kaiser Permanente, the Oakland-based health care provider and not-for-profit health plan, has spent a whopping $4 billion on implementing its KP HealthConnect system, which it began rolling out in San Diego starting in 2006. HealthConnect is the largest private-sector electronic health record system in the world, allowing Kaiser's more than 15,000 physicians to electronically access the medical records of all 8.8 million members nationwide. The system was fully implemented in March 2010.

Kaiser Permanente San Diego is now about 98 percent paperless. The exceptions are referrals outside of Kaiser, orders for chemotherapy, and consent forms.
Devitt, who's been closely involved in the rollout of HealthConnect in San Diego, said the "proactive office encounter," like the one she described above, is one of the key benefits of the system. "It's all about access to information," she said. "I love having everything at my fingertips and being able to see all of the lab work for every patient."
Safety, Communication Benefits
The computerized system also checks for patient allergies to drugs, prescriptions that shouldn't be taken at the same time, and other safety issues. And it gives patients the ability to view test results the same day, set up appointments online, and communicate with their physician via email. In 2010 alone, Kaiser members viewed more than 25.8 million test results and sent nearly 10.7 million emails to doctors using the system.
Yes, it is an expensive endeavor — between the hardware, software, training and ongoing maintenance, it's not cheap to switch from paper to digital.
"There are people who might think, 'Gosh, I don't think it's worth it,' " Devitt said. "But the gains are sometimes immeasurable and often indirect. Think of all of the savings on chemotherapy because we caught that cancer early. Or the loss in wages if that woman had to miss work because we hadn't found her cancer so early."

Still, the high cost is one of the major barriers to implementation for health care systems around the country and in San Diego, said Steven Escoboza, president and chief executive officer of the Hospital Association of San Diego and Imperial Counties, a nonprofit trade group.
"Our hospitals (in San Diego) are at varying levels of moving toward the goal of using electronic records," he said, with the bigger players like Kaiser, Scripps Health, and Sharp HealthCare ahead of the smaller groups.
The financial investment needed to adopt digital records is one reason why Congress in 2009 passed a law that provides financial incentives to encourage doctors and hospitals to use electronic health records. The Congressional Budget Office estimated that the incentive payments would total $34 billion.
Kaiser had already gone live with its HealthConnect system when the law passed, says spokesman Rodger Dougherty. "The law was validation for us," he said. "We were ahead of the game, and it was nice to know that we were already where we were supposed to be."
Barriers Other Than Cost
Money isn't the only reason some physicians and medical groups are slow to adopt electronic health records. First, medical organizations must be able to ensure patient confidentiality, which requires a sophisticated information technology infrastructure, Escoboza said.
And, as longtime San Diego orthopedic surgeon William Mohlenbrock notes, some doctors see digital records as slowing them down or interrupting work flow. "It forces physicians to be data input clerks," Mohlenbrock said.

Devitt said that attitude does exist, even at Kaiser. When HealthConnect was first rolled out, some doctors didn't know how to type — nor did some want to know how to type. Kaiser provides training through online typing modules and offers voice recognition software for doctors who prefer not to type.
But even doctors who still grumble about having to use a computer would never go back to paper records, said Mary Ann Barnes, senior vice president and executive director of Kaiser Permanente San Diego. "It's a real cultural shift, but our physicians would not ever give it up," she said. "Physicians have the worst handwriting ever, and legitimate mistakes can happen."
Not to mention that patient feedback has been extremely positive, Barnes said, noting a pilot program Kaiser is doing in conjunction with the U.S. Department of Veterans Affairs. Kaiser and the VA in January kicked off a new initiative being tested in San Diego to allow physicians from the VA and Kaiser to share information about a patient's allergies, medications and medical condition. The data sharing helps reduce redundancies and ensures that each care team has complete, up-to-date clinical information.
"Any patient who is part of this study says it's the best thing," Barnes said. "There are so many benefits to patient care."

The Defense Department, which uses its own set of electronic health records, will also join the program later this year.
Besides improving care and efficiency, Kaiser officials say that health information technology can dramatically reduce greenhouse gas emissions and produce other important environmental savings. A study by Kaiser, published in the May issue of Health Affairs magazine, looked at the effects of electronic health records on the use of greenhouse gases, waste, toxic chemicals and water use.
Environmental Bonus
"Electronic health records can support a more environmentally-sound health care sector if they are used to change workflows and care delivery, rather than just a substitute for paper records," Jed Weissberg, Kaiser's senior vice president of Hospitals, Quality and Care Delivery Experience, said in a company statement.
The study estimates that electronic health records could lower carbon dioxide emissions by as much as 1.7 million tons across the entire U.S. population. And that Kaiser's efforts so far have avoided the use of 1,044 tons of paper annually for medical charts, reduced the use of toxic chemicals, such as silver nitrate and hydroquinone, by 33.3 tons by digitizing and archiving X-ray images and other scans, and eliminated nearly 100,000 tons of carbon dioxide emissions as car visits are cut out by virtual doctor office visits and refilling prescriptions online.
"What Kaiser is doing makes tremendous sense from a quality and efficiency standpoint," Mohlenbrock said.
Kelly Quigley is a freelance writer for the San Diego Business Journal.