'Dancing Waters' Go Still; Replacement Project to Cost $450,000
Friday, May 27, 2011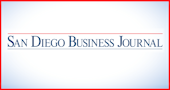 One of the coolest water fountains in San Diego at the Gaslamp Quarter trolley stop near Petco Park will be removed following a vote by the Centre City Development Corp. board May 26.
The fountain that spouted occasional bursts of water based on people's footsteps around it hasn't been working for about two years, and apparently came with a hefty price tag to fix it. After numerous community meetings, the CCDC board decided the best solution was to remove the fountain called "Dancing Waters" and replace it with some trees, benches and lighting.
The cost of the project is $450,000, according to the agency's report on the issue.
The agency has been talking about adding another water feature to the nearby Children's Park at First Avenue and Front Street, said CCDC spokesman Derek Danziger.
— Mike Allen