FINANCE: LESS MONEY IS AVAILABLE; INVESTORS WANT TO SEE RESULTS
Venture Capital Still Moving Under Caution Flag in Biomed, Life Sciences
Monday, May 23, 2011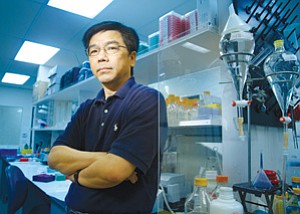 Is it a sign that the venture capital market is recovering from a dead standstill when at least five San Diego area companies have been able to secure venture capital funding since April?
Not exactly. Although CoDa Therapeutics Inc. gained $19 million, Polaris Group secured unspecified millions of dollars from existing investors in April, Dexcom Inc. picked up $50 million through stock creation, Sangart Inc. received $50 million, and Arena Pharmaceuticals Inc. obtained an additional $35 million, the gains were mostly either unusual investments or more money from existing investors, often with strings attached.
"There is still a capital constrained environment in life science and the medical device community," said Pratik Shah, a partner at Thomas, McNerney & Partners venture capital firm. "Much like the broader economy, it remains difficult to persuade investors to risk capital and there simply is less money available."
Bor-Wen Wu, chief executive officer of the Sorrento Valley-based Polaris, said he didn't even look for capital in the U.S.
Foreign Investors
"I raised 95 percent of our capital from China, Taiwan and Asia," he said. "They understand we are doing something very important and the caliber of the collaborators we are working with and the advances we've made."
Polaris is developing a drug to treat liver cancer that prevents cancer cells from generating a protein the cells need to survive — without harming noncancerous cells nearby. The company is in the final phase of clinical trials on humans — after eight years of human trials. Liver cancer is more prevalent in Asia than in the U.S., Wu said.
The company is now exploring using ADI-PEG 20 for 12 cancers, including lung cancer, leukemia, lymphoma and prostate cancer with institutions including Memorial Sloan-Kettering Cancer Center and the UC Davis Cancer Center. But the road to illustrious returns is long and slow.
"The most important thing is the project, and we were lucky enough to find investors who shared our passion," Wu said. "If they are looking to invest to go public or make money and get out, we don't want to work with them. I want the time to do this well and to get the science right."
An attitude like Wu's may help, Shah said.
"There are a number of companies and products that have made very good technological and clinical progress but still need more money," Shah said. "But if the business plan has elements that create sustainability — creative partnerships, creative ways to make money — that really helps. The less dependent a company is on raising money, to not be dependent on some fixed strategy and some fixed point in time, the more sustainable and worthy of investment that company appears."
Being able to show the merits of what a company is working on can sure help, according to Brad Duft, chief executive officer of the Sorrento Valley-based CoDa Therapeutics. CoDa closed a second round of venture capital investment for $19.2 million on April 18.
"It is a tough environment economically, but if you have a paradigm-shifting technology, a proven history of progress, eye-popping results from clinical trials and there's a huge unmet medical need, you'll find funding," Duft said.
CoDa is working on treatments that suppress connexin 43, a protein that shows up in high levels at the sites of wounds that won't heal. The company's dab-on drug Nexagon did well in recent clinical trials, where about one-third of patients had long-open wounds heal with just three applications of the drug.
The company raised $23 million in its first round of funding in October 2006.
"It was a lot easier to raise money in 2006," Duft said. "We drew on people we've already talked to, people who have a sophisticated understanding of the science and how it will help people."
"I show potential investors our data and then show them expert opinions that say this is a game changer," he added.
Arena Pharmaceuticals raised an additional $35 million from Deerfield Management Co. — but used half to pay down a previous loan from Deerfield, according to Arena spokeswoman Cindy McGee.
The Sorrento Valley company, which has been publicly held since 2000, has been in Deerfield's portfolio since 2009, with more than $100 million invested since then.
A Partnership
"It's not really venture capital since this is a long-term investor with whom we have a partnership," McGee said.
The U.S. Food and Drug Administration shot down Arena's most developed treatment, a weight-loss drug called lorcaserin that may have increased the risk of tumors in rats. Arena is working on a response to the FDA now, McGee said, and continues to work to maintain its reserves during this new challenge.
In April, the Sorrento Valley-based Sangart raised $50 million in its seventh round of funding since the company was founded in 1998. The company is developing therapies that can deliver oxygen to oxygen-deprived tissue and carbon monoxide to treat sickle cell diseases.
"Our recent closing of $50 million in Series G equity financing speaks to the promise of our medicines and the need for treatments for patients experiencing an acute traumatic injury and patients with sickle cell disease suffering from a vaso-occlusive crisis," said Brian O'Callaghan, president and CEO of Sangart. "This most recent investment brings the total funding raised to date by Sangart to more than $230 million and allows us to advance the development of our medicines and get them as quickly as possible to patients in need."
The seventh round of funding came from investment groups that had previously ponied up, including Leucadia National Corp., Life Equity Sweden Kb L.P., GZ Group Inc., Odin Forvaltning AS and Life Equity Group.
Tom Clancy, managing director of Tao Venture Capital Partners, said venture capital has become a world of haves and have-nots.
"Money is getting concentrated into large institutions," he said. "I know a lot of people are out looking for money, but there's relatively little capital available for investment."
Marty Graham is a freelance writer for the San Diego Business Journal.