DEFENSE: PAYLOADS CAN BE EASILY SWAPPED IN NORTHROP'S NEW VEHICLE
Spy Aircraft's 'Openness' Is One of Its Selling Points
Monday, May 23, 2011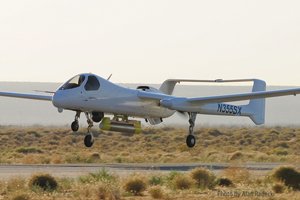 NORTHROP GRUMMAN
CEO: Wes Bush.
Revenue: $34.8 billion in 2010; $33.8 billion in 2009.
Net income: $2.05 billion in 2010; $1.69 billion in 2009.
No. of local employees: Several thousand. Northrop had 4,800 local employees prior to March, when it spun off its ship repair and shipbuilding business as Huntington Ingalls Industries Inc.
Investors: Publicly traded on the New York Stock Exchange as NOC.
Headquarters: Los Angeles.
Year founded: 1939, as Northrop Aircraft Co.
What makes the company innovative: Its new Firebird aircraft has two innovations. It can operate with or without a pilot. Also, a new, "plug and play" open architecture supports its data-collecting electronics.
Flexibility is the watchword for Northrop Grumman Corp...