Real Estate Roundup
Monday, May 9, 2011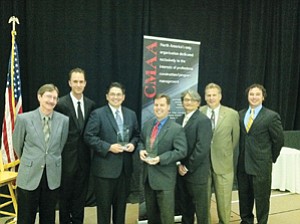 Collaborators Collect Project of Year Honors
The project team for the Miramar College Arts & Humanities and Business Technology classroom buildings received the Project of the Year Project Achievement Award from the San Diego chapter of Construction Management Association of America.
The team, which includes program manager Gafcon, construction manager Sundt Construction, and NTD Architecture, was honored along with the San Diego Community College District for outstanding project management of the $34.4 million Miramar College Arts & Humanities and Business Technology classroom buildings.
The Project of the Year Award, which recognizes outstanding achievement in the practice of construction management, was presented during the CMAA Annual Awards Banquet on April 21 at the Town and County Hotel & Convention Center.
The project features two state-of-the-art classroom buildings, each more than 48,500 square feet. The new Arts & Humanities building features "smart" classrooms equipped with computers and audiovisual and multimedia equipment; a 60-seat lecture theater; a professional recording studio complete with soundproof booths and a control room to serve the music production and engineering program; and dedicated art labs, including a 2-D drawing/painting lab and 3-D ceramics/sculpture lab. The Business Technology Classroom boasts a 3,000-square-foot mathematics lab, office space, fully equipped "smart" classrooms and computer labs.
The Miramar College Arts & Humanities and Business Technology classrooms were completed on time and within budget. Gafcon has more than a decade of experience working in higher education and kindergarten through grade 12 construction projects, including bond programs for the Grossmont-Cuyamaca Community College District, Rancho Santa Fe School District, Carlsbad Unified School District and various UCLA student housing projects.
"Along with our project partners Sundt Construction and NTD Architecture, we're elated to win this award," said Jim Bray, Gafcon campus project manager at Miramar College. "More important, we take great pride in helping Miramar College deliver on their promise of an outstanding facility to both their students and taxpayers alike."
LEED Gold Granted to UCSD Dining Hall Project
Reno Contracting recently announced that its renovation of the Stewart Commons Dining Facility for UC San Diego has achieved Leadership in Energy and Environmental Design Gold certification from the U.S. Green Building Council. 
Reno was the design-build general contractor for the project, which was built for UCSD's Housing and Dining Department as a student dining facility for Muir College. The project earned LEED certification in the category of Commercial Interiors v2.0 in early April.
LEED certification provides independent, third-party verification that a building project meets the highest green building and performance measures. Reno's renovation of the Stewart Commons Dining Facility earned 32 of the possible 57 points available to earn LEED Gold certification. The project achieved points in areas including sustainable sites, water efficiency, energy and atmosphere, materials and resources, indoor environmental quality, and innovation and design process.
The project, which began in September 2009 and was completed in August 2010,  involved two floors encompassing approximately 28,000 square feet, including a state-of-the-art kitchen and serving center, providing services to thousands of students each day at UCSD.  The design-build team included Delawie Wilkes Rodrigues Barker, architects; MA Engineering, mechanical engineer; Hope Engineering, structural engineer; RBF Consulting, civil engineer; Michael Wall Engineering, electrical engineer; and Drew George, LEED consultant. Leading the team for Reno was Chris Heim, project executive; Patrick Johnston, project engineer; and Dave Enos, project superintendent.
KMA to Design Modern Upgrades for O.B. Church
KMA Architecture & Engineering recently announced that renovation designs are under way for the Newbreak Church in Ocean Beach.  
KMA was retained by the church to design the project, with construction expected to begin in July and slated for completion in December.
Located at 2069 Ebers St., the 6,000-square-foot one- and two-story church is being renovated to give the facility a more modern appearance. The existing wood and brick exterior cladding of the facility will be removed to create a sleek, contemporary look and the entrance will be relocated to provide church-goers with a spacious gathering area shaded by a welcoming trellis. To optimize church sanctuary acoustics, the facility will be modified to include multimedia innovations.
In addition to Blair, the KMA team consists of Rich Guerena, Jay Janda and Alison Warren. Other services are provided by Burkett & Wong, Civil and Structural Engineer.
Bond Program Recognized With Construction Award
The San Diego chapter of the Construction Management Association of America recently presented Sweetwater Union High School District's Proposition O with the 2011 Best New Construction Project Achievement Award. The coveted award recognizes the program for its expert project management during Chula Vista High School's $20 million campus modernization.
Construction on the Chula Vista High School campus included the creation of a 25,279-square-foot performing arts center that is now the largest of its kind in the South Bay, a new 5,600-square-foot library, upgrades to locker room facilities, retrofitting of stadium bleachers and renovations to the gymnasium. The Best New Construction Award marks the third consecutive year of CMAA recognition for the program, which is managed by SGI Construction Management. The team also received an honorable mention in the Best Program Management category for its overall work on the district's $644 million school construction bond program.
"This dual achievement reflects the outstanding efforts of our construction management team to provide district students with sustainable, state-of-the-art educational facilities," said Sweetwater Union High School District Board President John McCann. "Our team of construction and facilities managers continue to set the industry standard for best construction management practices by delivering projects that meet sustainability guidelines and strict budget requirements under tight deadlines."
CMAA is North America's only organization dedicated exclusively to the interests of professional construction and program management. The awards recognize the Proposition O team for their leadership, professionalism and excellence in managing the development and construction of Sweetwater Union High School District. 
Three Leases Signed at Regents Park in La Jolla
Three leases have been signed during the first quarter of 2011 at Regents Park Financial Centre located at 4180 La Jolla Village Drive, in La Jolla.
The five-story, Class A building is located in the University Towne Center office market. The building has signed seven leases totaling approximately 40,000 square feet during the last year to bring it to its current 79 percent occupancy rate. Leases signed in the first quarter include:
• Lavine, Lofgren, Morris & Engelberg has renewed 13,854 square feet of office space for 98 months with an approximate consideration of $2.7 million. The tenant was represented by Bill Fleck and Scot Ginsburg of Jones Lang LaSalle.
• Brahma Holdings has leased 6,286 square feet of office space for 65 months with an approximate consideration of $850,000. Bob Kuzman of Cassidy Turley BRE Commercial represented the tenant.
• The Gelber Group has leased 2,118 square feet of office space for 39 months with an approximate consideration of $185,000. Brian Klepacki of CB Richard Ellis represented the tenant.
The landlord, TA Associates, was represented by Brunson Howard, Chris High and Eric Northbrook of Cushman & Wakefield in all three transactions.
SAIC Leases Space For Manufacturing
CB Richard Ellis recently announced that SAIC, a fortune 500 company, leased 29,185 square feet of industrial distribution/warehouse space at 13691 Danielson St., at the Parkway Commerce Center in Poway.
The space will be used for manufacturing. SAIC was drawn to the property by its outstanding function with 24-foot clear height, ample dock-high loading, heavy power, modern curb appeal, and the expansion opportunities available in the 147,907-square-foot project. The 60-month lease is valued at more than $1.5 million.
Bill Dolan of CB Richard Ellis represented the property owner, Invesco. Randall Wood and Tambra Martinez of Jones Lang LaSalle represented SAIC.