FBI Investigating Hacking Incident at Sony
Monday, May 2, 2011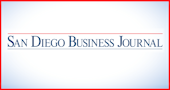 The San Diego office of the FBI, which specializes in computer crimes, confirmed last week that it was investigating a hacking incident at Sony Corp. of America's PlayStation business.
Sony said a hacker got into its servers April 17-19 and may have stolen data on its 77 million registered users. Sony said it could not rule out the possibility that the hacker stole credit card information.
In response, Sony said on its Web sites that it shut down its PlayStation Network gaming service and its Qriocity movie-streaming service, hired an outside security firm to investigate, contacted law enforcement, and was rebuilding its system to better protect personal information. As of noon April 28, the services were still down.
The hacked servers belong to Sony Computer Entertainment America LLC. The Sony subsidiary specializes in the PlayStation gaming hardware and is based in Foster City, near San Francisco. The same subsidiary has an office in San Diego's Sorrento Mesa business district.
Specific details about whether the outage affected Sony's San Diego work force were unavailable at press time. As of noon April 28, a Sony Computer Entertainment America spokesman had not responded to an e-mail seeking comment.
"We are aware of the reports concerning the alleged intrusion into the Sony online game server and have been in contact with Sony concerning this matter," said Special Agent Darrell Foxworth, the FBI's San Diego media coordinator, in an e-mail April 27. "We are presently reviewing the available information in an effort to determine the facts and circumstances concerning this alleged criminal activity."
The statement asked anyone with information concerning the matter to call the FBI at 858-565-1255 or 877-EZ-2-TELL.
Sony's San Diego businesses also include Sony Online Entertainment, which develops "massively multiplayer" computer games, meaning they can be played by large numbers of people simultaneously. Titles include "Everquest" and "Star Wars: Clone Wars Adventures." Sony released a statement apologizing for a service interruption.
"We are also working on a 'make good' plan for players of the PS3 versions of 'DC Universe Online' and 'Free Realms,'" said a statement posted April 26. "Details will be available soon on the individual game Web sites and forums."
— Brad Graves