FINANCE: BIG DEALS MAY CULMINATE WITH CONTRACTS IN A NEW YORK LAW OFFICE
When Buying or Selling Firms, Talks Often Start Under the Radar
Monday, March 28, 2011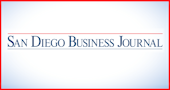 People buying or selling businesses frequently wind up in a law office conference room, or sequestered in a hotel suite. But take it from someone who's been there: initial steps often happen in public, under the radar.
"Most deals start at a pretty nice restaurant," said Joel Reed, principal of investment bank RA Capital Group in Carmel Valley. It's there that chief executive officers "get together and chat."
A meeting that led up to L-3 Communications Holdings Inc.'s $2.6 billion acquisition of San Diego defense contractor Titan Corp. happened at Rainwater's on Kettner downtown, Reed said. Another preliminary meeting took place at a New York restaurant, near L-3's headquarters.
"Substantive" parts of business deals get done in social settings, Reed reported, while "fine sculpting" gets done at a law office, adding that many deals are handled in the offices of major New York firms.
The July 2005 sale was a culmination of a decade-long relationship between RA Capital and Titan. That relationship began in 1995, during an attempted hostile takeover of Titan. Company executives frequently treat their investment bankers as lawyers, keeping up a relationship for years, Reed said.
Honoring a Titan
The Titan story will be told again this week. Connect, a nonprofit that helps technology entrepreneurs build their businesses, plans to induct Titan CEO Gene Ray into its Entrepreneur Hall of Fame during a March 31 luncheon at the Estancia La Jolla Hotel & Spa. (See related story on Page 5.)
Nearly six years after the deal, Reed recalls Ray as a tough negotiator, able to hold his own in talks with Frank Lanza, L-3's chief executive. Lanza, who spoke with the San Diego Business Journal on two occasions in the mid-2000s, was a formidable, no-nonsense figure. Lanza was also "among the defense industry's most aggressive acquirers," The Washington Post reported at the time of Lanza's death in 2006.
L-3 and Titan, incidentally, was not the biggest transaction that investment banker Reed has been part of. The job wasn't even in San Diego.
After Enron went bankrupt in 2001, Reed helped the energy trading giant reorganize and maximize the value of its assets, worth $15 billion. Enron was "atypical," Reed said. "We do a lot more merger and acquisition transactions."
Reed received degrees from Oklahoma State University and is a certified public accountant, though he is inactive. In his day-to-day work, he deals in mergers and acquisitions, financings, restructurings, crisis situations and complex shareholder matters. In 1994, he was a founder of Relational Group, a precursor to RA Capital.
Tabletop Strategists
In its day, Rainwater's was a favorite haunt of business and political leaders. "People felt comfortable being there," said Laurel Rainwater of La Jolla, who ran the restaurant with his wife, Paddy Rainwater, from its opening in 1985 until it closed at the end of 2009. Booths offered privacy. "Nothing was close together," Laurel said, and a wine room offered even more privacy. Paddy reported that members of the Wrigley and Rockefeller families once met in the wine room.
Booth 5 was reserved for the mayor, and it was often inhabited by parties headed by Maureen O'Connor and Susan Golding, Paddy said. The school board reportedly held secret meetings at Rainwater's.
Rainwater's is gone, but deals still get made in public.
Early risers might spot deal-makers at Milton's Restaurant-Delicatessen, within the San Diego city limits across Interstate 5 from the Del Mar Fairgrounds.
Martin Waters, an attorney with the Carmel Valley office of Wilson Sonsini Goodrich & Rosati, said he has arranged deals over breakfast at Milton's. The deli has the added benefit of having tabletops covered with a fresh sheet of butcher paper.
"I can structure even the most complex deal on their paper tablecloth," Waters said by e-mail.
Racing Along
Marco Thompson is another businessman with a collection of paper scraps from Milton's. Thompson, a fixture in San Diego technology circles, said he has put together several deals at the deli. By one account, he has worked on 45 startups in the past 35 years.
Thompson and business partner Tony Finn have been lining up investors for a pair of wakeboard parks: KC Watersports outside Kansas City, Kan., and Cowtown Wake Park in Fort Worth, Texas. The parks use overhead cables to tow people riding wakeboards — which are similar to snowboards — across the surface of a lake.
Thompson said he recently met with potential wakeboard park investors at Honey's Bistro & Bakery in Encinitas, Love Boat Sushi in Rancho Bernardo, and The Restaurant at Auberge Resorts' Rancho Valencia resort in Rancho Santa Fe. The investor in the last meeting was from China. He reported that the group has scraped together less than $1 million for the venture.