Those Failures Can Be Your Steppingstones on a Path to Success
Monday, March 28, 2011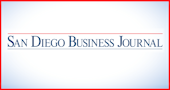 I am sitting here trying to write some positive words of wisdom to all of you. It seems to me that a positive look at things is in order as the world continues to take some unpleasant turns. As I write, the stock market is down hundreds of points; the radiation issues in Japan are very real to the West Coast residents; the Middle East is mired in protest and revolution; and the list goes on.
I thought that I would look back at some of our famous historical figures to see what they did in their day to move on and set themselves apart from the problems by overcoming those difficulties with positive thoughts and actions. My hero today is Thomas Edison. He was on the verge of becoming the poster child for failure but instead he became the man Life Magazine named the number one man of the millennium.
While reading former San Diegan John Maxwell's book "Success: One Day at a Time," I came across this story about Edison. The light bulb as a visual representation of an idea came from Edison. Here's why.
The number of things that Edison invented is astounding: 1,093 inventions. He held more patents than any other person in the world, having been granted a least one patent every year for 65 consecutive years.
Most people credit Edison's ability to creative genius. He credited it to hard work. "Genius is 99 percent perspiration and one percent inspiration. Maxwell asserts that Edison's success was also the result of a third factor: his positive attitude.
Seeing the Best in Things
Edison, Maxwell claims, was an optimist who saw the best in everything. "If we did all the things we were capable of doing," he once said, "we would literally astound ourselves. "When it took Edison 10,000 tries to find the right materials for the incandescent light bulb, he didn't see it as 10,000 failures. With each attempt, he gained information about what didn't work, bringing him closer to that which would work.
Edison never doubted that he would find success. His belief could be summarized by his statement: "Many of life's failures are people who did not realize how close they were to success when they gave up."
I believe Edison's best contribution was his positive attitude. Some say attitude is everything; I am one of those people.
One of my favorite mentors is Elbert Hubbard, the philosopher, printer and publisher. He wrote, "There is no defeat except in no longer trying. There is no defeat save within, no really insurmountable barrier, save our one inherent weakness of purpose."
As we sit in our spaces each day plugging along trying to overcome all the obstacles that life throws in our way, try thinking about Edison who left us with this quote: "I failed my way to success."
Powerful Thoughts
Here are some other reinforcement thoughts:
"I am a great believer in luck, and I find that the harder I work, the more I have of it." — Stephen Leacock.
"A year from now you may wish you had started today." — Karen Lamb
"By perseverance, the snail reached the ark." — Charles Spurgeon
Instead of worrying about every little thing, and some big things too, why don't you become the Edison of your era? Fail your way to success, as he did.
Maxwell, an author, professional speaker and pastor followed Edison. Maxwell followed his own father into the ministry, completing his B.A. at Ohio Christian University in l969. Then he completed his Master of Divinity at Azusa Pacific University and Doctor of Ministry at Fuller Theological Seminary. He led churches across the nation. After 14 years at the senior pastor at Skyline Church, near here, he left in 1995 to devote himself full time to speaking and writing. While he didn't exactly fail his way to success, he worked his way through life until he found success.
Each of us was born to be successful. Some of us find success and others die trying. The key to surviving today's challenges and problems is never to give up.
There are many things that lead us astray, but there are things that can guide us. Faith in yourself, in your fellow man and a little bit of Edison's philosophy will get you where you want to go. Don't try to solve all of the world's problems — just don't become one of the problems.

Ted Owen is president and chief executive officer of the Carlsbad Chamber of Commerce.