REAL ESTATE: STALLED FOR 20-PLUS YEARS, $80M DEVELOPMENT PROGRESSING
Construction Work to Start on Unstoppable Project
Monday, March 28, 2011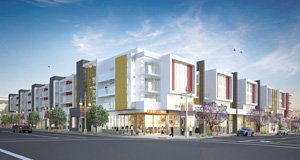 After more than two decades of revisions and legal wrangling, construction will soon begin on the $80 million Mercado del Barrio, a mixed-use development that will bring affordable housing and the first major grocery store to San Diego's Barrio Logan neighborhood.
Master developer Shea Properties, a division of J.F. Shea Co. Inc., and the city's redevelopment agency recently closed on property and land transfers, clearing the way for the first grading and utility work to start within the next few weeks.
When completed by mid- to late 2012, the 6.8-acre development will include a new 92-unit apartment complex, with the majority classified as affordable under government income guidelines.
Mercado's 80,000 square feet of retail space will be anchored by a 35,000-square-foot location of Northgate Gonzalez Markets, a fast-growing Los Angeles-based grocer serving Hispanic communities. Developers say talks are in progress with representatives of other stores, restaurants and neighborhood-focused service businesses that will also come to the development.
Xavier Del Valle, a project manager with the San Diego redevelopment agency, said the last hurdles have apparently been cleared, to begin providing long-awaited services and employment opportunities to the historic Barrio Logan.
"The Mercado will be like a Horton Plaza for the Barrio Logan community," Del Valle said of the development in southeastern San Diego, adjacent to Chicano Park and the Coronado Bay Bridge.
Longtime Planning Effort
The project was first envisioned in the 1980s, and Del Valle said several older commercial buildings were demolished starting in the mid-1990s to make way for Mercado, in a blighted area off Cesar E. Chavez Parkway.
But the development was stalled by a series of lawsuits over development and ownership rights in the area.
Shea Properties development manager Kevin McCook said legal and financing issues have been resolved, and the project has been made feasible by having partner developers involved.
For instance, while Shea is overseeing commercial components that will be among the first to be built at Mercado, the housing element is being put together by Chelsea Investment Corp. of Carlsbad.
"This could be a model for future infill developments in the city, especially as a way to get affordable and market-rate housing into communities where it's needed," McCook said.
Tim Baker, a project manager with Chelsea Investment, said the apartments at Mercado should be ready for occupancy by late 2012. Ninety-one of the 92 units will be classified as affordable, with one- to three-bedroom units priced from approximately $430 to $1,100.
Three floors of apartments will be built atop a ground floor dedicated to retail and other commercial space. The complex will have a configuration known as a "Texas wrap," where commercial and residential elements surround a central parking area.
Chris Morrow, chairman of the San Diego/Tijuana chapter of the Urban Land Institute, said the progress now being made with Mercado is significant, considering the financing challenges that continue to face developers.
Divvying Up the Work
Having different developers take on the various components of mixed-use projects will likely be the most feasible approach going forward, since it eases the process of obtaining financing by dividing projects into pieces that lenders can "digest" more easily.
Also pivotal for Mercado was developers' ability to bring in a major grocery chain, which Morrow said will not only benefit a long underserved community but also encourage other companies to establish a presence in Barrio Logan.
In cities like San Diego, where less than 5 percent of land remains available for new development, Morrow said denser infill projects will be the most practical way to rejuvenate communities and bring in needed services.
Still to be seen, he said, is the potential impact if the state decides to do away with city redevelopment agencies, which are crucial in bringing together public and private entities to create projects like Mercado.
"The devil is going to be in the details in the next decade," Morrow said.
Del Valle said the state proposal to abolish redevelopment agencies won't impact Mercado, since local funding was committed for the project long before the matter was raised this year by Gov. Jerry Brown, as a potential way to deal with state budget problems.