Daphne's Restaurant Chain Changes Name
Friday, March 25, 2011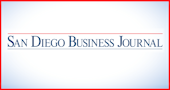 Daphne's Greek Café has changed its name to Daphne's California Greek, the Carlsbad-based fast-casual restaurant chain announced March 24.
The company in recent months has been redesigning its restaurant interiors and changing its menu offerings, as part of a market repositioning being conducted by Wreath Equity LLC, which purchased the chain out of bankruptcy in August 2010.
"We are creating a lifestyle brand that is not just focused on flavorful, healthy food, but also on bringing our community together through music, art and fun," Chief Executive Officer William Trefethen said in a statement.
Officials said Daphne's, which has 60 locations, has been using customer research to focus on healthy menu options and improvements to the restaurant's environment. Most food items now have less than 700 calories, and the restaurant has added options including wheat pita bread, a California Greek salad and grilled Chilean salmon.
Daphne's also will soon offer a variety of locally brewed beers and California wines, the statement said. The chain was established in 1991, and its original owners filed for Chapter 11 bankruptcy protection in January 2010.
— Lou Hirsh