TECHNOLOGY: VEHICLE MONITORING SERVICES TRACK
Rising Fuel Prices Pump Up Fleet Management Businesses
Monday, March 21, 2011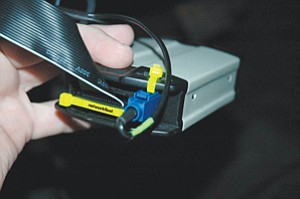 NETWORKFLEET INC.
CEO: Keith Schneider.
Revenue: Estimated $30 million.
No. of local employees: 100.
Headquarters: University Towne Center.
Year founded: 1999.
Stock symbol and exchange: Unit of Hughes Telematics Inc., HUTC on the OTC Bulletin Board.
Company description: Networkfleet is a provider of wireless fleet management services designed to reduce fuel consumption and emissions as well as maintenance expenses.
RMJ TECHNOLOGIES
CEO: Mauricio Berber.
Revenue: Not disclosed.
No. of local employees: Four
Headquarters: Fallbrook.
Year founded: 2006
Company description: RMJ Technologies is a resller of Networkfleet products, and a provider of wireless, real-time fleet management services.
Fuel prices may be headed up, but fuel consumption is under control for customers of San Diego-based Networkfleet Inc...