Regional Report
Monday, March 7, 2011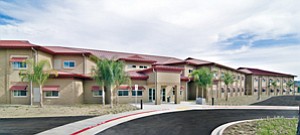 OCEANSIDE
New Base Barracks Passes Environmental Muster
New facilities housing injured warriors at Marine Corps Base Camp Pendleton, near Oceanside, have received Platinum certification under the U.S. Green Building Council's Leadership in Energy and Environmental Design, or LEED, program.
The base's Wounded Warrior Barracks is the first Marine Corps project to receive the council's highest level of certification, according to a Feb. 23 statement from the Marines and the project's lead contractor, Barnhart Balfour Beatty of San Diego.
The $24 million project, completed in March 2010, was built to reduce energy and water use in the building by nearly 40 percent. The landscaping water savings compared with similar projects exceed 66 percent, and more than 86 percent of waste generated during construction went to recycling, the statement said.
The two-story, 66,000-square-foot facility has 100 rooms accommodating 200 men and women of all ranks, and complies with the Americans with Disabilities Act. A total of 41 consultants and subcontractors worked on the project, many of them based in the San Diego area.
— Lou Hirsh
SAN DIEGO
Maxwell Grows Revenue As It Cuts Its Net Loss
Maxwell Technologies Inc., a San Diego maker of energy storage devices called ultracapacitors, reported on Feb. 17 that it had fourth quarter revenue of $34.2 million, up 22 percent from the prior year's fourth quarter.
Net loss for the quarter was $2.4 million, compared with a net loss for the like quarter in 2009 of $10 million.
For the full year, Maxwell reported revenue of $121.9 million, up 20 percent from its revenue in 2009.
The full year net loss was $6 million compared with a net loss of $22.9 million for 2009.
Chief Executive Officer David Schramm said in addition to continued growth of sales in the wind energy and hybrid transit bus markets, the company also generated the first meaningful sales to the auto industry last year.
Maxwell recently took a hit in the form of a $14.4 million legal settlement with the Department of Justice and the Securities and Exchange Commission related to charges it allegedly bribed Chinese officials through a hired agent to win contracts from state-owned companies. The payments occurred from 2002 to 2009 and were made through Maxwell's Swiss subsidiary, which contracted with a Chinese agent, according to settlement documents.
The company said it paid $8 million in penalties to settle with DOJ, and $6.35 million to settle with SEC. The company has a three-year deferred prosecution agreement with both agencies, requiring it to report on its internal anti-bribery compliance program. If the company remains in compliance with the agreement, the charges will be dismissed with prejudice, Maxwell said.
Traded on Nasdaq under MXWL, shares stood at $18.53 in midday trading Feb. 18, down more than 5 percent from the prior day's closing price of $19.55. The stock's 52-week range is $10.16 to $19.65.
— Mike Allen
SAN DIEGO
Cubic Shares Its Wealth With Special Dividend
The board of Cubic Corp. — the defense contractor that also makes hardware for mass transit systems — decided shareholders should get a little something extra this year.
In addition to its regular semiannual dividend of 9 cents per share, Cubic declared a special, one-time dividend of 10 cents per share because of the "strong performance of the corporation in 2010," Cubic said in a Feb. 22 statement.
The dividends will be payable April 5 to people and institutions holding shares on March 11.
Cubic's New York Stock Exchange ticker symbol is CUB.
— Brad Graves
ESCONDIDO
Solar Power Project to Energize Storage Facility
EcoOneEnergy LLC, a renewable energy systems developer and integrator of alternative energy projects based here, will install a 1.8-megawatt solar power project at the Bee Safe Storage facility in Murrieta.
The firm said it is doing the work for prime contractor e1Q Energy Inc., which provides the solar technology. The array of solar modules will be connected by a parallel wiring approach, resulting in savings of "hundreds of thousands of dollars," and reduced amount of labor for installation.
— Mike Allen
CARLSBAD
Tech Firm Leaves Carlsbad For a UC Irvine Location
Shrink Nanotechnologies Inc., which develops miniaturization technology used in scientific research and industrial processes, has moved its headquarters from Carlsbad to the Tech Portal office on the campus of UC Irvine.
The company announced Feb. 18 that the move to UC Irvine, where much of its development work is now being handled, is among streamlining measures that will help reduce operating costs by nearly 50 percent. The firm was formerly based at 2038 Corte Del Nogal.
Chief Executive Officer Mark L. Baum said in a statement that the company had received a "six-figure commitment of new investment capital" through the purchase of restricted common stock, but the company did not specify the source or amount.
— Lou Hirsh