TOURISM: EXTENSIVE RENOVATIONS 'REFRESH' DOWNTOWN PROPERTY
Staying in the Past Is Not an Option for Hotel
Monday, June 27, 2011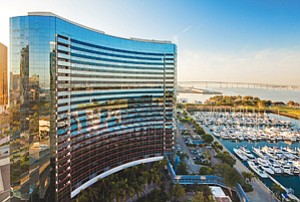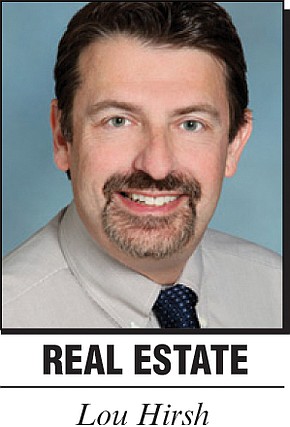 An extensive $200 million makeover of downtown's San Diego Marriott Marquis & Marina is about a third complete, as work proceeds on what operators say is the largest renovation investment ever made by the hotel's owner, Maryland-based Host Hotels & Resorts Inc.
As part of a phased-in, five-year updating of the 24-year-old waterfront property, which started in 2009, the recently rebranded Marquis now sports a new lobby and fitness center, and about half of its 1,360 rooms have been completely remodeled. The pool area and cabanas have been redone, with the addition of a new pool bar and restaurant which is open for business.
Renovated retail areas have been reopened, including a new 24/7 business services center operated by UPS Store.
"You are always looking for ways to remain contemporary, and to stay competitive you sometimes have to take time to refresh your property," said hotel Manager Steve Pagano.
Marquee Value
The hotel, operated by Maryland-based Marriot International Inc., is the region's second largest hospitality property by room count. Marriott recently added the "Marquis" name to the downtown hotel, which is among a select few globally, and just the fourth in the U.S., to carry the hotelier's moniker reserved for deluxe properties with more than 1,000 rooms and expansive meeting spaces.
Earlier this year, owner Host Hotels significantly boosted its already sizable presence in the San Diego market by acquiring the region's largest hotel, downtown's 1,625-room Manchester Grand Hyatt, for $570 million.
Host also owns the region's fourth-largest hotel, the 1,053-room Sheraton San Diego Hotel & Marina at Harbor Island, as well as San Diego Marriott Mission Valley and Coronado Island Marriott Resort & Spa.
The company's big renovation at the downtown Marriott continues as a number of San Diego County hotels have been undergoing significant makeovers, including Westin Gaslamp Quarter, La Costa Resort and Spa, and Doubletree by Hilton properties in Mission Valley and Rancho Penasquitos.
According to Smith Travel Research, there were 352 major hotel renovations under way in the U.S. at the end of January. The research firm said there were many smaller projects, as hotels continued to prepare for expected better times ahead by making improvements now, while costs for construction and related expenses are relatively low.
Drawing Power
Pagano said the Marriott just recently placed a significant number of its guest rooms back on the market following renovations, so an exact comparison of 2011 visitor trends with 2010 would be difficult.
However, he pointed to general trends reported recently by the San Diego Convention and Visitors Bureau, indicating downtown hotel occupancy up about 4.4 percent and average daily rates up 5.5 percent from a year ago.
Pagano credited completed renovations at the Marriott with drawing a rising number of younger visitors attracted by a hipper urban atmosphere, with weekend bookings on the increase in recent weeks. He said the hotel's bar sales this year are nearly double what they were at the same time last year.
The new features include Tequila Bar & Grille, with locally crafted beers and 40 tequilas, and private poolside cabanas with Wi-Fi access, electrical outlets and optional TVs and catering service.
The 25-story, two-tower hotel on West Harbor Drive sits on a private marina. Renovations are expected to continue through early 2014, with the next phases including renovations to its north tower starting later this year.
The hotel's central meeting facility, Marriott Hall, is being rebuilt and expanded as a new 40,000-square-foot ballroom and 40,000-square-foot exhibit hall, with work expected to start in July 2012 and be completed in 18 to 20 months.
Also in the works are an outdoor event area, pedestrian promenade and extensive landscaping improvements.