TECHNOLOGY: FLOW OF INVESTMENTS JUICE UP ENERGY STORAGE SECTOR
Batteries Have the Power to Boost Business Enterprises
Monday, June 27, 2011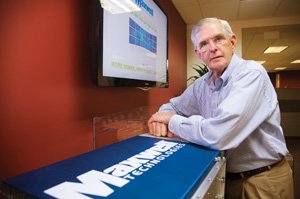 San Diego businesses are powered up to grow in the burgeoning industry of storing electricity. From better battery life to capturing and using energy that's been wasted to stabilizing the grid, energy storage has become an important and potentially profitable business sector.
From Maxwell Technologies Inc., which sells its ultracapacitors worldwide, to Flux Power in Escondido, San Diego area companies are advancing the science and the applications for storing energy; whether it's generated by the brakes on a train or storing at a scale that supports the growing use of renewable energy — which is cleanly generated but often with variable delivery.
Hundreds of millions of dollars of venture capital is flowing into the energy storage sector, despite the generally restrictive investment climate.
"There's a constant need for better portable power so energy storage is a multi-billion-dollar market with double-digit growth for the foreseeable future," said Rick Cooper, an investor active in the energy sector of Tech Coast Angels and a former fuel cell entrepreneur. "Venture capital is going into this sector — it's a very high growth, high demand business area."
Maxwell Technologies in Kearny Mesa is having its best year ever, with revenues of $69 million in 2010, according to Michael Sund, vice president of communications and investor relations. Maxwell has developed an ultracapacitor, a device that is very fast to charge and discharge, he said. They can be as small as a postage stamp or as large as a soda can.
"Batteries power slowly but hold a lot more energy, where the ultracapacitor can suck it up very fast and then dribble the energy into a battery," Sund explained. "Ultracapacitors can be complementary to batteries."
Recovering Energy
Maxwell's ultracapacitors are on about 4,000 hybrid transit buses' braking systems where they recover the kinetic energy generated by braking rather than letting it dissipate — much the way the Toyota Prius does.
"If you have a system that can capture the energy fast enough, you can recover and recycle a surprising amount of energy," Sund said. "Fuel economy can improve by 25 percent and, since takeoff is all electric, particulate emissions were reduced by 90 percent — because it eliminates the big cloud of diesel smoke out of the back of the bus."
The ultracapacitors are also useful on wind turbines to work in systems that shift the position of the turbine blades in high winds to keep them from being damaged. About 15,000 wind turbines worldwide have Maxwell ultracapacitors, he said.
PSA, the French car company that makes Peugeot and Citroen, is planning to use ultracapacitors to allow car engines to shut down and start up again in order to avoid wasteful and polluting idling time, Sund said.
"Using the battery to do the starts shortens the life of the battery, but an ultracapacitor can handle the bursts of energy," he said.
At Flux Power in Escondido, the business is storage and managing your storage with software that monitors, balances and optimizes usage, according to Chief Technical Officer Joseph Gottlieb.
Power Management
"You want to buy and collect energy when the cost is lower and use that cheaper energy when it's most expensive to buy from other sources," Gottlieb said. "You want to be sure that your cell tower or traffic light have enough power to operate around the clock."
Flux Power's systems are in demand for electric vehicles, including the Wheego, and in what Gottlieb calls the traction sector, utility carts and forklifts, golf carts and mobility scooters.
PowerGenix Corp., based in Scripps Ranch, also has its eyes on the stop-start cycle that can eliminate idling engine time. The company has been developing nickel-zinc rechargeable batteries and is working to sell them to the big automakers. PowerGenix is already a presence in the power tool and home rechargeable battery market, and continues to grow its China-based operations.
The large-scale storage of electricity is an increasingly important issue as power generators move away from power created by burning and boiling things — reliable methods that can be used around the clock as needed. Solar power can't be generated at night while wind power is almost always easier to come by after dark. So being able to store power and use it to even out demand on the grid has become one of the three biggest issues in mass energy generation.
In September 2010, the governor signed Assembly Bill 2514, which requires the California Public Utilities Commission to begin building a structure for regulating energy storage, a necessity arising from the goal of increasing the amount of renewable power on the grid. In March, the utilities commission launched proceedings to increase and standardize energy storage in California. Industry observers, including Harold Gotschall of locally based Technology Insights, say the demand for energy storage products and know-how will increase dramatically as the rules are established.
"The stabilization and integration issues are central to enhancing the reliability of the grid as we integrate more renewable energy," Gotschall said. "There are technologies that can store energy from microseconds to days, and there's going to be a need for planning, management and design that uses them to add reliability to the grid."
Massive Storage Project
UC San Diego, one of 35 designated innovation hub partners in the region, has its own massive energy storage project under way after securing $3.4 million in funding for the project. Laura Manz, senior vice president of the Western Region for Pennsylvania-based Viridity Energy Inc., is working with UCSD to manage the power the university is generating.
"We are trying the use of batteries on a bigger and bigger scale for what we call a ride-through, the ability to deliver power that's not continuously generated in a continuous, 24/7 way," Manz said. "We have an optimization software that helps decide how to deploy the resources, when and how much to store, to anticipate and prepare for changes in generation and use."
Marty Graham is a freelance writer for the San Diego Business Journal.