TRAVEL: CARRIER SEES OPPORTUNITY IN SERVING NORTH COUNTY POPULATION
The Runway Less Traveled: New Airline Faces Many Challenges
Monday, June 13, 2011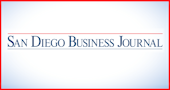 Nonagenarian businessman Ted Vallas is discovering just how difficult it is to get his proposed new Carlsbad-based commercial air carrier to lift off.
He's been working to get his California Pacific Airlines up and flying at county run McClellan-Palomar Airport.
The 90-year-old veteran entrepreneur says he hopes to begin operations by early 2012, after originally saying he would begin operations last November, and then March.
"Getting certification as a domestic air carrier is one of the most daunting of government approvals," said Vallas. "It's a slow process."
Vallas said one of his biggest obstacles has been getting the permit for domestic certification, which allows an airline to operate and which primarily concerns "safety" and "maintenance."
"It's the "toughest," Vallas said. He's hired a team of experienced aviation managers and executives to help with the process.
He noted that one factor in the delay is that the major airlines have picked up smaller aircraft as they became available to replenish aging fleets on their feeder lines.
"We anticipated everything that's happened so far," Vallas said. "We thought it would be easier to obtain aircraft than it's proven to be."
The Destinations
His fledgling airline would serve Las Vegas, Oakland, Phoenix, Sacramento and San Jose, as well as Cabo San Lucas, using Brazilian-built, twin engine jet aircraft seating 70 passengers.
He said his team has spent the past two years developing safety and maintenance manuals and writing operating procedures for the Brazilian-built Embraer 170, which is flown by other airlines around the world.
"The cost to date is more than $2.5 million in creating these documents, primarily for personnel and expert consultant fees," said Vallas.
He wants to offer an alternative airport to Lindbergh Field, and in the process, compete with low-cost operator, Dallas, Texas-based Southwest Airlines Co., which dominates flights at Lindbergh Field.
Brett Snyder, who writes about the industry at crankyflier.com, said the undertaking is certainly ambitious in that he can't recall another startup airline in recent memory, with the exception of British entrepreneur Richard Branson's San Francisco-based Virgin America a few years back.
"It is a very difficult thing to get an airline started," Snyder said. "There are a lot of hoops you have to go through at the Department of Transportation, from financial fitness to operational issues and audits."
Hoops and More Hoops
"There are a million things you have to do before you are ever allowed to fly," Snyder said.
Vallas is no newcomer to the very competitive commercial airline industry.
He was behind Air Resorts Airlines in the 1980s and 1990s, and he was involved in the aviation industry earlier in his career.
Vallas said he's invested $14 million of his own money into the new venture, and he is seeking to raise an additional $32 million from outside investors.
So far, he says he has 22 people working for the airline.
The new carrier will offer "single-point service" from Carlsbad, offering flights to and from a particular destination, with no stops in between. The airline will offer two classes of service: business and economy class.
He'll have the aircraft fly back to Carlsbad each night to save on overhead, such as parking fees and charges at the other airport. He won't have to pay the cost of parking the planes or accommodations for the flight crew.
Vallas said he is targeting business travelers, because flying from McClellan would be less expensive and more convenient than flying out of Lindbergh Field, which is currently undergoing a $1-billion expansion and remodeling.
"Our marketing surveys show that as much as 40 percent of travelers leaving from Lindbergh come from the North County, from Del Mar and Poway north to the county line," he said, which represents about 1.2 million residents.
CPA, as it's dubbed, would become the second of two commercial carries providing service at McClellan-Palomar Airport. The other carrier, United Express, offers connecting service to Los Angeles International Airport.
Mike Doerr, who runs a fast-growing air charter service out of the airport and who publishes Air2Air magazine, said getting certification is very challenging for anyone who attempts it. "There is a lengthy review process, an extensive paperwork process, and then there is a training demonstration requirement.
"So, all of those factors, especially with the reduced manning situation at the FAA, have made the process all that more challenging."
Doerr doesn't see California Pacific as a competitor. He sees the new carrier increasing "awareness of the efficiency of traveling by air out of Carlsbad rather than airports that are not as easy to get to in San Diego."
Tom York is a contributing editor for the San Diego Business Journal.