Maxwell Cuts Its Net Loss
Friday, July 29, 2011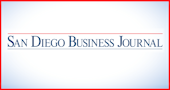 Maxwell Technologies Inc., the San Diego makers of industrial energy storage systems, reported a second quarter net loss of $1.2 million compared with a net loss of $2.6 million for the like quarter of 2010.
Revenue for the quarter was $38.5 million, up 30 percent from the like quarter of 2010.
Maxwell said sales of its ultracapicitors grew 54 percent to $24.4 million over last year's second quarter results.
The devices are used in the manufacture of hybrid electric autos, wind turbine blade pitch systems, hybrid and electric mass transit bus drive systems, and various backup power applications, all of which showed decent growth trends this year, said CEO David Schramm.
For the third quarter, Schramm forecast Maxwell revenue increases in the 5 to 7 percent range. For the full year, revenue will finish about 20 percent better than 2010, sufficient to bring the company to a profit on a non-GAAP basis, he said. GAAP refers to generally accepted accounting principles.
— Mike Allen