HEALTH CARE: CONSULTING FIRM PROVIDES VITAL DATA TO HOSPITALS
Improving Care, Cutting Costs
Monday, July 25, 2011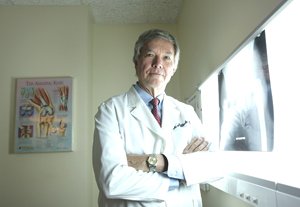 RESUME
Name: William "Bill" Mohlenbrock.
Company: Verras Ltd.
Titles: Chairman and medical director.
Education: St. Louis University School of Medicine, doctor of medicine.
Birthplace: Murphysboro, Ill.
Age: 72.
Current residence: Del Mar.
Family: Wife, Betty; daughter and son-in-law, Kem and Philip Graham; and four grandchildren, Brock, Gunner, Marianne and Margot.
Twenty years ago, it was big news in Cincinnati — big enough that the story was published in The Wall Street Journal. The news centered on an innovative health care consultancy from California hired by Cincinnati's largest employers to help local hospitals improve care and cut expenses.
The consultancy, Iameter Inc., collected a wide range of raw hospital data, including charges per patient and length of stay, then analyzed it in a way that took into account the type and severity of illnesses that were treated.
With the apples-to-apples comparison in hand, Cincinnati's 14 hospitals were able to see how they stacked up against their competition and identify practices that led to the best patient outcomes at the lowest cost. Hospital savings were substantial and almost immediate, and Iameter was soon hired to do the same thing in Nashville — a story that also ended up in The Wall Street Journal.
Fast forward to today.
Iameter's ownership structure has changed and it now goes by a new name, Verras Ltd., but its founder, Del Mar resident William Mohlenbrock, is still at the helm and working hard in pursuit of his original goal: To lower health care costs by presenting actionable data to hospitals around the country.
Small Changes, Big Savings
"In 1991, with the Cincinnati project, I realized that with very little change in physicians' behavior, literally hundreds of millions of dollars can be saved," said Mohlenbrock, an orthopedic surgeon who is chairman and chief medical officer of Verras. "After that, I really became obsessed with the opportunity that's right in front of us."
While so-called "physician-directed improvements" are the cornerstone of Mohlenbrock's model for lowering costs, hospital management also must play a role in acting on data that Verras provides. For example, if doctors see that they don't need to order as many lab tests for a particular treatment to be effective, management would have to do its part by reducing the number of people who work in the lab.
Since forming Iameter in 1983, Mohlenbrock said he has worked with more than 300 hospitals across the U.S. Today, he's seeing a growing interest in his consulting services, thanks in large part to imminent health care reforms under the federal Affordable Care Act, which President Obama signed in March 2010. The law promises big changes to the ways that hospitals and doctors are reimbursed for their services; "pay for performance" is going to quickly become the new industry buzz phrase, Mohlenbrock said.
"The near future is going to force tremendous austerity," he said. "Physicians and hospitals are going to get paid less from the federal government and they're eventually going to get paid less from commercial insurers."
Index of Quality Improvement
That's one of the reasons Verras recently launched a product called the Index of Quality Improvement. The benchmarking system uses Medicare's publicly available data on hospital performance. Clients can use the index to compare themselves to competitors based on a handful of measures such as morbidity rates and resource consumption.
Mohlenbrock said that in the new age of health care reform, the key to most hospitals' success will be their ability to demonstrate quality and efficiency to those paying the bills. Above all else, meeting those goals will require training doctors on how to replicate the best outcomes of the past and weed out inefficiencies that complicate care and add to costs.
"The most expensive instrument by far in a hospital is the physician's ordering pen," Mohlenbrock said. "That's where all resource consumption begins. The reality is that physicians control 85 percent of all inpatient costs, and that's a huge percentage."
Achieving the Right Balance
Tom Gehring, who represents the interests of local physicians in his role as president and chief executive officer of the San Diego County Medical Society, said that doctors need to retain decision-making autonomy to provide the best care.
"Every stakeholder, including the physician, is interested in improving quality and efficacy while reducing costs," Gehring said. "But we need to make sure that there is a balance so we're not impinging on the physicians' independent judgment of the patient."
Physicians understand that quality comes as a result of reducing variation in a system. It's an idea — made famous by the now-deceased management consultant W. Edwards Deming — that's long been championed in other industries, including auto-making and even fast-food.
Now the idea is permeating health care. In San Diego, Scripps Health recently restructured its entire system to reduce variation across its five hospital campuses and 20 outpatient centers. Savings are expected to reach around $150 million, said President and CEO Chris Van Gorder.

Most of the efforts have focused on operational changes led by management, but clinical changes are in the works. "We realized that if we reduced variation in the way we practice, we would improve quality and lower costs," said Van Gorder. "If we all believe in quality of care, why are things being done differently at each campus?"
Savings have come from consolidating laboratory functions and purchasing more respiratory equipment that's shared across the system rather than each hospital renting it at a premium, among other things.
Identifying Inefficiencies
To better identify inefficiencies, Scripps did away with the chief operating officer role at individual hospitals and put those executives into new positions that oversee divisions across the entire system — what Van Gorder refers to as a horizontal structure. So now, one person oversees support services for all hospitals, another oversees nursing, and so on. "The role of the horizontal team is to question variation throughout the system," he said. Since the structure went into effect last fall, executives are "almost embarrassed by the amount of opportunity there has been to reduce cost."
Mohlenbrock believes that drastic changes, such as those at Scripps Health, will become a necessity for all hospitals in the age of health care reform. But data on quality should always be leading the changes, he said; cutting costs is meaningless if patient care suffers.
"If you don't know what the metrics of quality are, it always redounds to price," said Mohlenbrock, formerly a Vietnam War flight surgeon.
He plans to eventually make Verras' Index of Quality Improvement available to the public in some form, so the average consumer can easily compare health care providers.
Such transparency is the way of the future. "You have to know what you're buying," he said. Health care providers "that are willing to hold themselves accountable are going to be the winners."