HOSPITALITY: CONVENTION MAKES $163 MILLION IMPACT ON COUNTY, REPORT STATES
COMIC-CON INVADES GASLAMP
Monday, July 18, 2011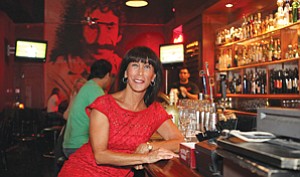 COMIC-CON INTERNATIONAL 2011
Event organizer: Comic-Con International, a nonprofit organization.
Dates and place: July 21-24 at the San Diego Convention Center.
Annual economic impact: $163 million.
Expected attendance: 125,000 (sold out).
Event description: Annual conference that focuses on comic books, TV, movies and related pop culture tied to science fiction.
Ingrid Croce vividly remembers the era before the explosive growth of the Comic-Con International convention when the restaurant she opened in 1985 was among the few things generating traffic in the Gaslamp Quarter.
Ten years later, following the debut of the San Diego Convention Center, things had changed dramatically.
"It really started taking off in the mid-1990s," recalled Croce, whose Croce's Restaurant & Jazz Bar was named for her late husband, singer-songwriter Jim Croce. "That's when you really started seeing the crowds expanding in the Gaslamp during Comic-Con."
This year, the dozens of restaurants, hotels and stores that now populate the historic district are counting on the business turbo-charge that comes with the more than 125,000 people who descend on San Diego for Comic-Con. The mega pop-culture gathering takes place this year from July 21-24.
While it did not break down the impact by district, a Convention Center report issued last year estimated that Comic-Con generates nearly $163 million annually in San Diego County, including more than $67 million in direct spending by Comic-Con attendees.
In the Gaslamp, business operators note that the crowds include not only convention participants, but also thousands of others who flock to the downtown area just to take in the global media spectacle.
"People like to come and just see all the people in costumes walking up and down the streets," said Croce. "It's like a combination of Mardi Gras and Halloween every year."
Good for Business
It's also a welcome boost to the bottom lines of restaurants and retailers still recovering from the recession. Croce estimates that her venue on Fifth Avenue has at least 10 percent to 20 percent more business during Comic-Con than the typical Thursday-Sunday span — and the Comic-Con buzz usually begins Tuesday or Wednesday evening before the start of the convention.
At Chuck Jones Gallery on Fifth Avenue, showcasing the work of the late Warner Bros. cartoon animator, Mike Dicken says the business gets 20 times the foot traffic and rings up nearly 200 times the sales dollars during Comic-Con than in other comparable periods. Last year, it sold approximately 140 art pieces as 20,000 to 30,000 people strolled through the gallery during Comic-Con week.
"There's a really strong connection between the fans of Comic-Con and the work of Chuck Jones," said Dicken, the gallery director.
Jim Durbin, general manager of the San Diego Marriott Gaslamp Quarter hotel, notes that even though Comic-Con is not the biggest convention held locally, it generates the largest contingent of non-attendees flocking to the district to partake in a convention event.
"There really aren't enough restaurants with enough seats during Comic-Con," said Durbin, who is also president of the Hotel Motel Association of San Diego County, a local hospitality industry trade group. The Marriott Gaslamp Quarter's rooms set aside specifically for Comic-Con — about two-thirds of its 306 rooms — were booked up several weeks before the start of the event.
As in years past, the 2011 Comic-Con itself was sold out months in advance, and will bring 125,000 participants and more than 3,000 global media representatives to events at the Convention Center and neighboring hotels, organizers say.
Not Just a Convention
David Glanzer, Comic-Con's marketing director, says room blocks for participants this year were reserved at 67 hotels throughout San Diego County, meaning that several business districts beyond downtown could benefit from ancillary events tied to Comic-Con.
In the Gaslamp area, Glanzer says pedestrian flow from the Convention Center will be eased by the pedestrian bridge crossing Harbor Drive, which opened this year.
Also, organizers at press time were working to set up an area in a parking lot near Petco Park where Comic-Con-focused businesses unable to obtain space at the Convention Center could set up booths and activities, potentially bringing more people into the Gaslamp Quarter.
Comic-Con organizers are based in San Diego and the event has been held locally since its 1970 debut. Last year, following months of competitive negotiations and proposals, San Diego beat out convention facilities in Anaheim and Los Angeles to continue hosting the pop-culture confab. It is booked at the Convention Center through 2015.
Tech-Savvy Crowd
In addition to watching price points in recent years to keep fare affordable to young convention-goers, Gaslamp merchants are increasingly using mobile device technology and social media such as Twitter to get people into their establishments, with special promotions that can change throughout the week.
Comic-Con fans are "a very tech savvy, social-media-savvy group," said Brandy Shimabukuro, marketing manager for the Gaslamp Quarter Association, a trade group that represents businesses in the district.
Though it did not examine Comic-Con impacts, a study released last year by researchers at San Diego State University estimated that the Gaslamp Quarter has contributed more than $86 million in tax revenue to the city and its redevelopment agency during the past decade.
The 16-block district generally runs from Fourth to Sixth avenues, between Broadway to the north and Harbor Drive to the south.
Shimabukuro says merchants see Comic-Con's impact as crucial in turning tourists into repeat visitors, especially during the summer when downtown competes with area beaches and amusement parks.
"A lot of businesses find that this can make or break the season for them," she said.