WORKFORCE: BARRY BROOME PLANS TO TACKLE JOB LOSSES
New EDC Chief Eager to Drive Economic Reforms
Monday, July 11, 2011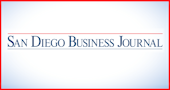 SAN DIEGO REGIONAL ECONOMIC DEVELOPMENT
CORP CEO: Barry Broome
Chairman of the board: Debra Reed
Annual budget: $3.2 million.
Headquarters: Downtown San Diego.
Year founded: 1964.
Mission: Promote region for investment, while attracting and retaining companies to the region.
Having spent most of his career in economic development, Barry Broome, named last week as president and chief executive officer of the San Diego Regional Economic Development Corp., knows well there's no simple answer to getting the region back up to speed, but he's aiming to find out … real quick.
"You can't have an economic development organization moving at one speed and the marketplace moving at another," Broome said. "One of the first things that has to happen is the pace has to pick up dramatically."
In his opening remarks after being hired for a job that begins Aug. 1, Broome made it clear the local business retention and attraction organization isn't going to just shrug if more jobs are lost to lower cost states and foreign nations.
"One of the first things I'd like to see is California not take a beating from the South and Texas lying down," he said.
Broome, 50, is replacing Julie Meier Wright, who announced her retirement earlier this year and whose last day was June 30. She had been at the top spot in the EDC for 13 years.
Several members of the search committee for the job said Broome's experience in similar positions and ability to innovate in past tough economic climates made him the unanimous choice. The agency received some 300 applications that were narrowed to eight finalists.
"Barry has the ability to come into a region and understand the competitive drivers of an economy, and how to take those competitive advantages to grow jobs," said Debra Reed, chairman of the EDC and the newly appointed chief executive of Sempra Energy.
Displays of Leadership
Bob Watkins, hired to conduct the nationwide search, said Broome demonstrated leadership skills in a number of past positions, including in Michigan where he helped establish an incubator after two large drug companies conducted a major downsizing. The effort helped retain a group of the entrepreneurs so that they could start new companies, Watkins said.
In his six-plus years at the helm of the Greater Phoenix Economic Council, the organization attracted some 160 companies that created about 30,980 jobs, and brought more than $6.5 billion in capital investment to the area, according to the EDC.
He was also credited with working collaboratively with other organizations and policymakers to create a renewable energy industry in Arizona and attracting new foreign investment there.
Broome started his economic development career in Cleveland in 1989, working on housing and workforce issues. In 1997 he became the director within the City of Toledo's economic development department. Two years later he was named to head up the Southwest Michigan First economic development group. In 2005 he was hired by the Greater Phoenix Economic Council.
Attraction to Area
Broome said he's familiar with San Diego and has vacationed in Coronado for the past five years.
"I've been told that if someone offers you a job in San Diego, you take it," he said.
A big part of bringing in new higher-paying jobs and keeping those same jobs here is figuring new ways to tell the world what San Diego has to offer, and the advantages it enjoys in terms of many cutting-edge industries.
"If you're a capital-intensive, low-cost provider you should probably go to Texas," he said. "But if you're an innovator, you come to San Diego."
He noted that in the past 20 years, California has lost 140,000 aerospace jobs mostly to lower cost states such as Alabama, Tennessee and North Carolina, but the state seems unable to figure out strategies to stop the bleeding.
"Why isn't California fighting back?" he asked.
Differences and Similarities
Though he's taking the same job, the local EDC has a budget of $3.2 million and staff of 17. In Phoenix, his budget was $4.8 million with a staff of about 25.
The compensation will be about the same as he's been earning, about $260,000 in salary, not counting bonuses. His five-year contract with the EDC will include some incentives but those haven't been entirely hammered out, he said.
Meier Wright, who is vacationing in Oregon, was paid about $265,000 in an annual salary plus bonuses, Watkins said.
A former collegiate wrestler who is fond of mixing sports metaphors into his speech, Broome talked of doing the blocking and tackling that should yield results.
"We have to hit the ground hard and start bringing economic opportunity to this community," he said. "We'll get down and dirty, roll up our sleeves, and we're going to get after it right off the bat."