TECHNOLOGY: LASER SUPPLIER BEATS COMPETITOR INTO COVETED TERRITORY
INNOVATION: Cymer Light Sources Push Chip-making Boundaries Inward
Monday, July 11, 2011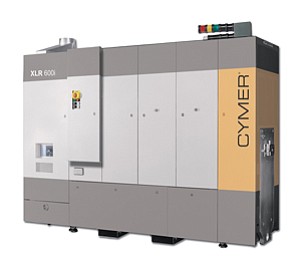 CYMER INC.
CEO: Bob Akins
Revenue: $534.2 million in 2010; $307.7 million in 2009.
Net income: $90.9 million in 2010; $11.9 million in 2009.
No. of local employees: 900.
Headquarters: Rancho Bernardo.
Year founded: 1986.
Stock symbol and exchange: CYMI on Nasdaq.
Company description: Makes semiconductor manufacturing equipment.
What makes the company innovative: Cymer recently introduced the next-generation, leading edge tool using extreme ultraviolet, or EUV, laser technology for etching circuits on computer chips as small as 20 nanometers.
Key factors for success: Cymer is the leader in the new EUV technology, with no competitors on the horizon. Cymer has also introduced a new system to make ultrathin film displays used for computer screens and televisions, as well as portable devices, such as smart phones and tablets.
From smartphones to tablets to laptops, it seems that just about everyone is carrying a mobile device these days...