ENERGY: SOITEC SOLAR FACTORY TO CREATE CLUSTER EFFECT?
GENERATING JOBS
Monday, July 11, 2011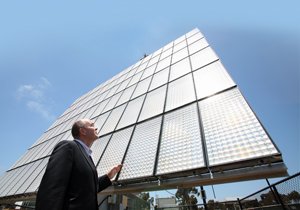 As Soitec Solar Inc. gears up for a major announcement in the next few weeks on the location of its new 200,000-square-foot solar factory in San Diego County, local government officials and clean technology leaders are buzzing about how this high-tech manufacturing and office building will stimulate the economy and lure other desirable companies to the region.
Soitec Solar, the solar energy business unit of France-based tech provider Soitec, is on the verge of signing a deal to buy or lease an existing local building and transform it into a facility that will produce solar panels and related equipment to supply energy producers in the desert Southwest, said Clark Crawford, vice president of business development and sales for Soitec Solar.
"We've looked at every existing building on the market that's over 200,000 square feet," he said.
The company said it expects to spend more than $100 million on building improvements and equipment for its mostly automated manufacturing process.
The factory and office complex, which will sit on approximately 10 acres, will also serve as the U.S. headquarters for Soitec's solar energy division. The operations will generate more than 1,500 jobs for San Diego, including 450 direct jobs ranging from engineering and marketing staff to human resources professionals, Crawford said.
'Good-Paying Jobs'
The other 1,000-plus jobs will be created indirectly as businesses throughout the San Diego area support the factory and its workers. Indirect positions typically include local suppliers, distributors and consultants, said Gary Moss, a labor market intelligence specialist with the San Diego Workforce Partnership, the nonprofit that calculated the indirect employment figure.
"This will be a boost to the job market when we really need it," Moss said.
"These are going to be good-paying jobs with a nice variety of positions," he added
Not only that, but having a cutting-edge solar company such as Soitec choosing San Diego as its American base will demonstrate to other sustainable energy firms that this is a city worth considering for their own operations.
"It generates a clustering effect," said Holly Smithson, executive vice president of CleanTech San Diego, a nonprofit that promotes San Diego as a world leader in the clean-tech economy.
"When companies are looking to come into the U.S. market, they've got to first figure out where the market demand is, and then they want to find an existing base of activity," Smithson said.
Already, roughly 150 solar-related companies hang their hat in San Diego, she said. California's Employment Development Department estimates that the number of green jobs in the San Diego region exceeds 37,700, with close to 13 percent of the state's renewable energy jobs, according to a report late last year by The San Diego Foundation, which promotes and manages charitable giving.
"Having a company like Soitec serves as a magnet for other companies that want to duplicate its success," Smithson said.
Powered By SDG&E
Soitec officials said that they've narrowed their decision on where to locate the plant to three sites in San Diego County, but declined to identify the sites or give a date regarding when they will announce their decision.
What's clear, however, is that Soitec will be making a major splash as it reveals its plans, likely including San Diego Mayor Jerry Sanders and possibly even California Gov. Jerry Brown in the public announcement, as well as a host of major players from the San Diego clean energy sector. Among those players will certainly be top executives from San Diego Gas & Electric Co., which will be responsible for much of the initial production demand at the solar factory, Crawford said.
The utility, a subsidiary of San Diego-based Sempra Energy, in the spring announced that it would work with Tenaska Solar Ventures of Nebraska to obtain solar-generated power from a facility being built by Tenaska in Imperial County, under a 25-year contract. That facility will use solar panels produced by Soitec.
And in May, SDG&E signed two 25-year agreements directly with subsidiaries of Soitec Solar for a total of 125 megawatts of solar energy for the San Diego area. The new plant also will produce solar trackers for those projects.
Even though Soitec has yet to announce its location, the build-out is on track to begin by the end of the year, with actual production beginning by late 2012, Crawford said.
Not Your Father's Panels
Unlike the stationary panels that people see on residential rooftops, Soitec's solar panels are always in motion. They also differ because each module uses a "concentrator photovoltaic" technology that includes a top layer of silicon and glass to concentrate sunlight onto tiny solar cells, Crawford said.
These panels are mounted on a two-axis tracking system that rotates to follow the sun, ensuring that the focal point of the concentrated sunlight is directly on the cells at every moment of the day.
"We convert a quarter of the incoming sunlight to electricity," Crawford said, compared with a conversion rate of about 12 percent for a typical rooftop pane.
The Tenaska project will include about 6,000 of these tracker systems on 11 acres, he said. The Tenaska-SDG&E contract is the first that Soitec has signed since Crawford was brought on board about a year ago to bring Soitec to the U.S., but because the majority of Soitec's potential clients are located in the Southwest, this area makes for an ideal home base for the factory and corporate employees, Crawford said.
Soitec plans to continue growing sales of its panels and tracking system to other independent power producers such as Tenaska, which then sell their power to energy companies like SDG&E. But Soitec is also in the business of developing its own solar farms, as is the case with the two contracts the company recently signed with SDG&E. Soitec's plans call for eventually selling its own developments to independent producers as turnkey operations, Crawford said.
While Soitec's solar panels may sound fancy, the photovoltaic systems actually allow for solar production at a cost that's competitive with other traditional energy sources, Crawford said.
The silicon material used to magnify the sun on Soitec's panels is inexpensive and requires less solar cell material, which is pricey, he said.
"It's all about making solar more affordable and very scalable for the utilities," he said. "We're finally at the point of grid parity, which has been the Holy Grail that the solar industry has been trying to get for 30 years."