EDC Goes to Phoenix for New CEO
Wednesday, July 6, 2011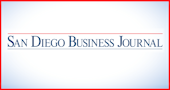 The San Diego Regional Economic Development Corp., the privately funded business retention and attraction advocacy group, hired Barry Broome, 50, as its new president and chief executive officer.
Broome, who starts Aug. 1, replaces Julie Meier Wright, who resigned effective June 30 and held the position for 13 years. He has been the president and CEO at the Greater Phoenix Economic Council for about six years, and has been involved in economic development for 22 years.
Members of the EDC's search committee said Broome, a former collegiate wrestler, beat out about 300 applicants for the job.
"Barry is the right individual to fulfill EDC's new jobs development strategy to make for a more dynamic, competitive San Diego," said Debra Reed, the EDC's chairwoman and the new CEO of Sempra Energy.
During Broome's time with the Phoenix council, the organization helped attract 160 companies which created nearly 31,000 jobs and about $6.5 billion in capital investment, according to the EDC.
Before working at the Phoenix position, Broome worked in economic development organizations in Cleveland and Toledo, Ohio and in Southwest Michigan.
Broome, who said the EDC matched his current $260,000 annual salary, said he was in a good spot in Phoenix, but was looking to shake things up in his life. The EDC has a budget of $3.2 million and a staff of 17, smaller than the $4.8 million organization with 25 employees that Broome formerly headed.
He said there are lots of things he intends to do differently, starting with picking up the pace of the organization.
"We have to hit the ground hard and start bringing economic opportunity to this community," he said. "We'll get down and dirty, roll up our sleeves, and we're going to get after it right off the bat."
— Mike Allen