FINANCE: DISSIDENT GROUP REJECTS BOOK VALUE OFFER FOR CORONADO FIRST
Shareholders Push for Higher Price on Bank
Monday, July 4, 2011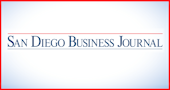 The planned sale of Coronado First Bank to Embarcadero Bank will cost the buyers more after shareholders of the purchased bank expressed dissatisfaction with the agreed-upon price.
Coronado First Bank Chairwoman Barbara DeMichele said that a meeting to approve the announced $9 million sale of the bank resulted in an adjournment to next month so that shareholders can consider a new offer from downtown San Diego's Embarcadero.
"We've been in discussions that could result in a greater consideration for CDFB (Coronado First Bank's ticker symbol) shareholders," DeMichele said.
She declined to give the reason behind amending the offer that was announced in March of $6.70 per share in cash, or 0.67 per share of stock in the combined bank for each share of Coronado First.
Sources said a group of dissident shareholders withheld their votes at the June 16 meeting because they considered the offering price too low. The group placed an ad in the Coronado Eagle & Journal newspaper advocating that the bank's 300 to 400 shareholders reject the sale.
DeMichele declined to provide how much more Embarcadero Bank is offering because the amended proxy book had not been filed yet. She said any increase would be acceptable to all shareholders.
The earlier offer was based on Coronado First's tangible book value of $6.70 per share as of Dec. 31. As of March 31, the bank had nearly the same book value.
A Win-Win Spin
When the sale was announced in March, it was promoted as a win-win for both banks, each of which has struggled for different reasons.
In Coronado First's case, it's never made an annual profit in its six years, it has a hefty group of problem loans on its books, and it's shrinking in size so that it can prop up its capital base.
Embarcadero Bank has one of the strongest capital bases among any bank in the region, but is extremely stingy in lending. In its four and a half years, its total loans at the end of March were $63 million, an average of $14 million annually.
By combining, the banks would gain economies in scale, reducing expenses, and give the newly merged bank the ability to grow faster and provide more competitive rates to its customers.
Maria Kunac, president and chief executive of Embarcadero Bank, was tight-lipped about the new offering price.
"It's a slight modification and we still have a contract with them, and we feel that this is a very good merger for both sides, and we expect it to be approved," Kunac said.
Kunac declined any further comment, and a call to founder and chief credit officer, Steve Rippe, wasn't returned.
When it was launched in December 2006, Embarcadero raised a record $21 million in capital. As of March 31, its capital base was $21.5 million, giving it a total risk-based capital ratio of 36 percent. That's more than three times the 10 percent minimum ratio to be regarded as a "well-capitalized bank" by regulators.
Changes Contingent on Sale
If the increased price is acceptable to Coronado First shareholders and if regulators approve the deal, the newly combined bank would be only $156 million in total assets, making it the 15th largest locally-based bank. Assuming the sale goes through, the banks plan to close the downtown office of Embarcadero and move the headquarters to Coronado First's downtown office. The new bank would take the Coronado First name and be headed by Kunac. Current Coronado First CEO Bruce Ives would become the chief operating officer. Both would serve on the merged bank's board, which would be chaired by DeMichele.
While amending a definitive agreement right before a shareholders meeting is unusual, it's not out of the realm of the possible, and doesn't necessarily mean the deal is in danger of falling apart, said Hans Ganz, the former president of Pacific Trust Bank in Chula Vista who retired last month.
Rick Levenson, president of Western Financial Corp. a San Diego investment banking firm specializing in community banks, said combining two small banks makes a lot of sense given the cost savings and the increased chance for growth.
"Everybody looking at this transaction should focus on the ultimate value that would be created by the merger of two institutions," Levenson said. "It would also put the combined institution as a more attractive acquisition target down the road."
Levenson said his firm holds a small stock position in Coronado First Bank.