DEFENSE: MONEY GOING TO PROJECTS DEEMED MORE WORTHY
Pentagon Cutting Exquisite Programs
Monday, January 31, 2011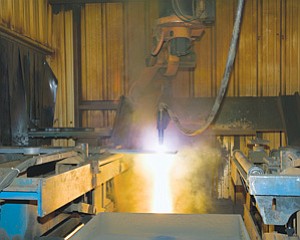 With the U.S. Department of Defense keeping a closer eye on spending, the defense industry's main customer has less tolerance for the "exquisite" program.
That was one of the messages that Robert O. Work, undersecretary of the Navy, delivered Jan. 26 at the San Diego Convention Center during the West 2011 military conference.
The Pentagon is cutting programs that Work calls exquisite — meaning programs that are highly capable but very expensive — and shifting money to programs it decides are more worthy, Work said in separate appearances before a luncheon audience and before a gathering of defense industry reporters.
This comes as Pentagon leaders increasingly view the federal budget deficit as a risk to national security.
Work limited his remarks to program cuts that had previously been announced. The undersecretary told the defense business community to wait for President Obama to release his budget, on Feb. 15 or thereabouts, to get a better idea of the Pentagon's spending plans.
He listed the upgraded Presidential Helicopter program as one of the exquisite programs that deserved cutting.
Amphibious Vehicle Panned, Praised
Work also defended the Pentagon's recent decision to cut the U.S. Marine Corps' Expeditionary Fighting Vehicle, an armored truck for amphibious landings. General Dynamics Corp. is the prime contractor, and prototype vehicles have occasionally been spotted off Marine Corps Base Camp Pendleton near Oceanside. If funded, the vehicle will need an inordinately large amount of the Marine budget, Work said.
The vehicle, however, has a local champion in Rep. Duncan D. Hunter, R-El Cajon. Hunter, who served with the Marines in Iraq and Afghanistan, released a statement Jan. 25 that said cutting the program "would do far more harm than good, especially when the core competency of the Marine Corps centers on amphibious operations."
Work, also a Marine veteran, disagreed. "People who say if you lose the vehicle, you lose amphibious assault, are not credible," Work told a group of reporters.
"The opportunity costs on the Marine Corps are too high," Work said during the luncheon speech.
In his remarks, Work made repeated references to "opportunity costs" of programs he called capable but too expensive. Opportunity cost is a concept in economics that states that a commitment to one course of action cuts off the benefit of doing something else.
A Nod to Northrop
During his lunch address, Work said savings from cutting expensive programs and waste could go to buy the U.S. Navy additional Fire Scout drones. The unmanned helicopter is a product of Northrop Grumman Corp. Northrop does office work related to a wide range of unmanned aircraft in Rancho Bernardo.
Some $1 billion in savings could go toward a "midrange" Navy drone with the ability to take off vertically, Work said. Other savings could go toward an unmanned fighter plane that could fly off aircraft carriers. Work dubbed the latter program "Predator off the carrier." The reference was to the Predator drone built by the Poway-based Aeronautical Systems unit of General Atomics, though it was unclear whether the undersecretary was using "Predator" generically, as a term for any brand of unmanned aircraft, or whether he literally meant a General Atomics product.
Work told his luncheon audience that Pentagon officials were having "a vigorous debate" about unmanned carrier aircraft, though he did not elaborate.
Contractors, Military Compare Notes
In other news from the conference:
• Kevin McNally, a program manager for information assurance and cybersecurity at the San Diego-based Space and Naval Warfare Systems Command, said the government must dramatically speed up its acquisition process when it comes to handling defenses against malicious code. The adversary does its work in days and hours, McNally said, while the traditional military acquisition process takes years.
• Marty Chanik, vice president for development at Northrop Grumman's shipbuilding segment, praised a San Diego-based competitor. Nassco/General Dynamics Corp. and its president, Fred Harris, have deftly produced T-AKE dry cargo and ammunition ships. It is an example of "serial production" that the government needs to fund more, Chanik said. Nassco is building 14 T-AKE ships and plans to deliver the last in late 2012.
Chanik addressed the need to cut down the number of shipyards in the United States, saying the industrial base had been established to support a 600-ship Navy. Currently, the U.S. Navy has roughly half that number of fighting ships.